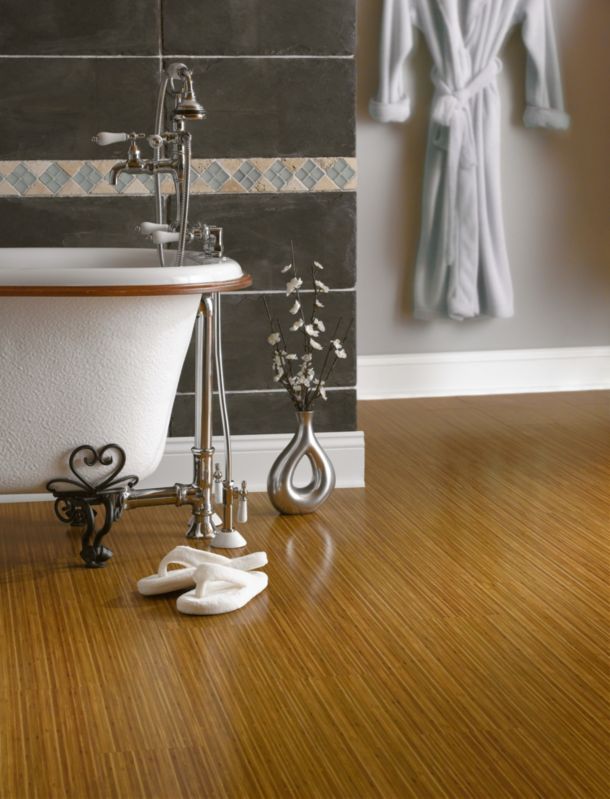 A natural neutral, bamboo's striated pattern and low-key colors work in any decorating style, especially when you're trying to achieve a relaxed, minimalist look. Luxury vinyl bamboo flooring is a beautiful solution for introducing bamboo's soothing tranquility and casual elegance to any room in your home. It's also ideal for rooms where traditional bamboo flooring isn't recommended.
Get the Bamboo Look in a Waterproof Floor
Luxury vinyl bamboo flooring is waterproof and can be installed in any room where moisture is frequently present. In bathrooms, the unique look of bamboo flooring creates a spa-like ambiance where you'll love to relax. In basements, you can design a peaceful retreat for family and friends. In kitchens and laundry rooms, too, you'll enjoy the serene look of bamboo flooring while never having to worry about warping, stains or water damage over time. Plus, vinyl plank flooring is exceptionally durable and highly resistant to scratches and daily wear and tear.
Decorating a room with luxury vinyl plank bamboo flooring is smart. It's beautiful, affordable flooring that won't strain the budget. When it comes to installation, you can easily do it yourself. All that's needed to complete a whole new floor are a few common household tools.
When you find something so inspiring and naturally attractive, you want to surround yourself in its comforting atmosphere. Bamboo flooring in luxury vinyl plank brings the artistry of natural simplicity into your home.