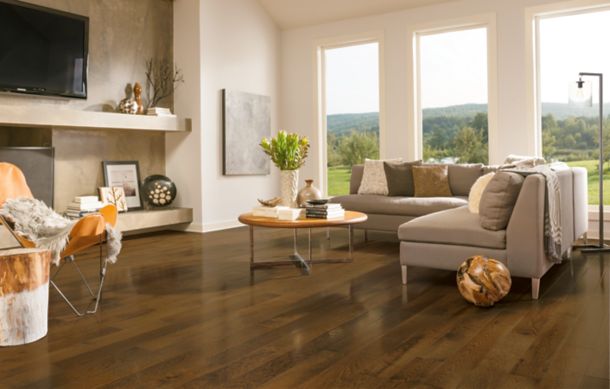 Eco-friendly cork flooring currently rides high on the trend for "green" interior options. It offers aesthetic and functional benefits such as a soft, cushiony surface, a selection of natural colors, and hypoallergenic and anti-bacterial proprieties.

Cork flooring does have limitations, however. It requires a high level of maintenance, has a tendency to stain, dent, and gouge easily, and is susceptible to water and pet damage. Cork is not ideal for every home, but homeowners have other options in eco-friendly flooring that deliver many of the same benefits with fewer drawbacks.
Eco-friendly Alternatives to Cork Flooring
Solid hardwood – Solid hardwood is a renewable resource that largely grows in sustainably managed forests. The most natural of flooring materials, hardwood is a decorator's dream when it comes to the selection of colors, species, and looks, such as hand-scraped and wide plank. When maintained properly, hardwood flooring can last for generations and offers superior performance to cork in terms of stain and dent resistance.
Luxury vinyl – Don't let the word "vinyl" fool you. Luxury vinyl is made with a natural limestone base and is third party-certified for low VOC emissions. Its vinyl surface delivers detailed stone, slate, and ceramic visuals that look convincingly real. The protective coating on this premium tile provides superior scratch, stain, and wear resistance. Like cork flooring, it feels soft and warm underfoot, yet it can be installed anywhere throughout your home, even in basements and bathrooms.
Linoleum – If you're looking for a green floor for your home, linoleum is one of your best choices. Linoleum flooring is made from natural materials like linseed oil, recycled wood flour, cork dust, and limestone. Just like cork flooring, linoleum is naturally hypoallergenic and anti-bacterial as well as biodegradable.
Check out Armstrong's eco-friendly alternatives to cork flooring and discover green options that give you a natural, beautiful floor, plus easier care and lasting durability.