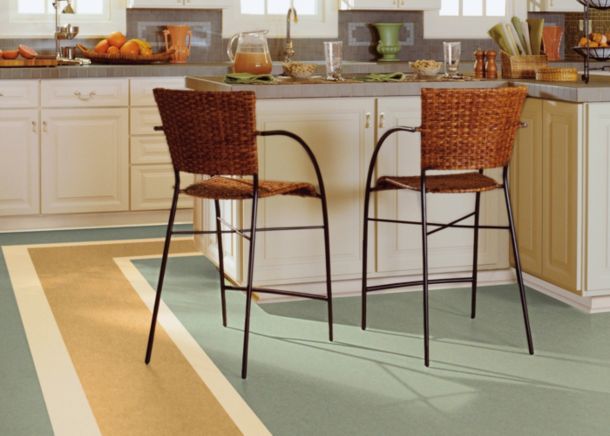 When first introduced more than a century ago, linoleum was favored for its comfort, durability, and decorative beauty that could brighten any room. None of that has changed, but you now have a wider choice of colors and styles.
Linoleum – an excellent choice for floors
Color. Linoleum is remarkably versatile and goes with any decorating style. Add a kick of color from the vivid side of linoleum's palette, and your kitchen becomes a sunny spot no matter what time of day. At the other end of the spectrum, exceptionally rich and deep hues complement a traditional setting or make a subtle splash in an otherwise neutral room.
Not to Be Confused with Vinyl. Linoleum is often confused with vinyl flooring. But they are two different types of floors and actually have little in common. Vinyl is a synthetic (man-made) floor, while linoleum is made from natural materials like linseed oil, recycled wood flour, and limestone. And vinyl's visuals are surface-printed, while linoleum has through-color and pattern.
Durability. Stylish color is an important consideration, but you also want a floor that can stand up to your lifestyle. Linoleum has you covered here because it's water resistant, hides scratches well, won't fade, and handles heavy foot traffic.
Care & Maintenance. To keep your linoleum floor looking good, adopt a regular routine of sweeping and damp mopping, along with occasional polishing at least once or twice a year.
The Original "Green" Floor. For homeowners who want to reduce their carbon footprint, linoleum fully qualifies as a "green" floor. The all-natural composition is 100% biodegradable and, surprisingly, linoleum is naturally anti-bacterial, so it resists mold and mildew.
Thanks to an environmentally-friendly appeal and new designs, linoleum is a popular option for today's homeowners.