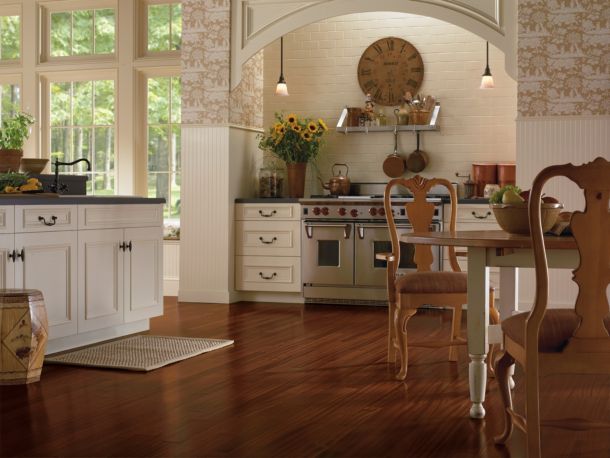 Exotic hardwood flooring from Armstrong creates an extremely unique living environment in any room. Armstrong supports sustainable forest management practices globally, including planting trees to replenish what we harvest. Our exotic wood purchasing policy demonstrates our commitment to working with suppliers to ensure that the wood we purchase is lawfully sourced and meets applicable requirements regarding forest management, manufacturing and trade rules. Exotic hardwoods are rich in visuals and textures.
Known for being highly durable, many of exotic hardwoods rate highly on the Janka hardness scale. The Janka hardness scale is an industry standard that measures the force it takes to embed a steel ball into a given species of hardwood. The higher the score, the more resistant the wood is to dents and bumps.
Brazilian Cherry Hardwood: Brazilian cherry is one of the hardest woods and offers a naturally rich variation of colors that do not require any staining. As the highest ranking wood on the Janka scale, it has a reputation for being long-lasting and stylish floor.
Sapele Hardwood: As a softer hardwood, Sapele is slightly less durable than some other exotics, but is naturally lustrous and has an intricate pattern that is unrivaled amongst its peers. As far as durability goes, it still ranks higher on the Janka scale than the industry benchmark, Oak.
Tigerwood Hardwood: Another durable hardwood option is Tigerwood. Only slightly less resilient than Brazilian cherry, it is not only strong, but gorgeous. It ranks right in the middle of Brazilian cherry and sapele. Its interesting grain pattern and coloration make this an extremely unique choice that not many other species can duplicate.
Armstrong has several exotic hardwood flooring options to choose from. You are sure to find a floor that will let you escape to a striking and interesting place. Many of our exotic hardwood looks are available our exotic laminate flooring as well.