Armstrong Equalizer Urethane Adhesive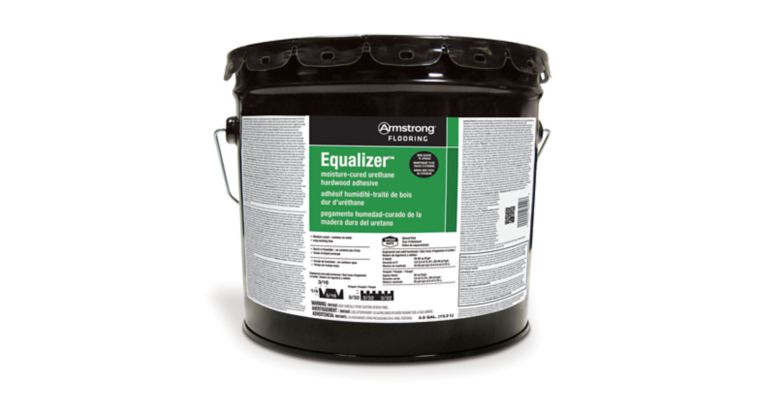 Find a Store
Details
Specifications
Armstrong Equalizer Urethane Adhesive
Excellent bond strength; Perfect for commercial and residential applications; Long working time; Allows for product repositioning.
For Engineered Wood and Solid Parquet Flooring
Additional Technical Details
Specifications
Square notch: 3/32"D x 3/32"W x 3/32"A - 60 sq ft/gal; 1/8"D x 1/8"W x 1/8"A - 50-55 sq ft/gal; V-notch: 50-60 sq ft/gal
Armstrong Guaranteed Installation System
Concrete; Suspended wood and wood underlayments; Existing well-bonded resilient flooring; not perimeter-bonded or heavy cushion-backed; Properly mixed and applied powder cementitious underlayments; Radiant-heated subfloors where the surface temperature does not exceed 85° F (29° C) (except for solid wood strip); Primed, poured-in-place gypsum subfloors; Ceramic; Cork flooring and acoustic cork; Aluminum and Stainless Steel.
Environmental Considerations
Low VOC's (less than 150 g/L, SCAQMD calculated at 70° F, SCAQMD)
77 g/L; calculated and reported, SCAQMD 1168
Square notch: 3/32"D x 3/32"W x 3/32"A - Solid Wood Parquet (1/4" to 5/16" thick); Square notch: 1/8"D x 1/8"W x 1/8"A - Pattern Plus (2-Ply), Westin (2-Ply) products; V-notch: 1/4"D x 3/16"W x 5/16"A - Engineered Wood Flooring and Pattern Plus 5000
45 - 60 minutes - NOTE: Working times vary based on job conditions, substrates, temperatures and humidity.
Coupon Offers
Find a Store
Find a flooring store in the U.S. or Canada