Armstrong S-288 Flooring Adhesive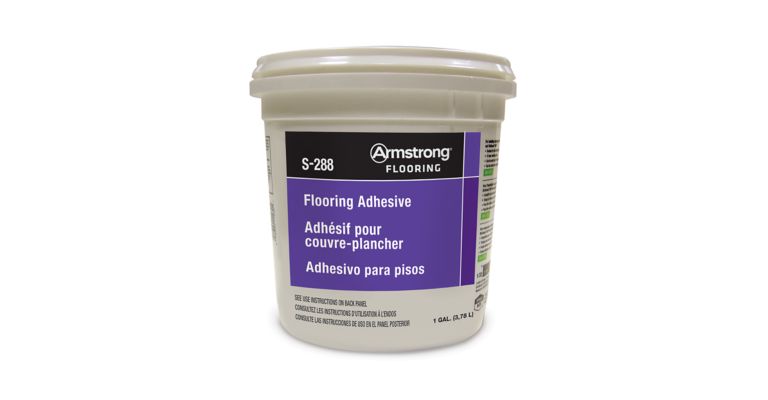 Find a Store
Details
Specifications
Armstrong S-288 Flooring Adhesive
Moisture and alkali resistant; strong initial grab.
CushionStep; StrataMax; Natural Living; Natural Personality; Alterna; NATURAL CREATIONS
Additional Technical Details
Specifications
250-300 sq. ft./gal. (23-28 sq. m)
Armstrong Guaranteed Installation System
All grade levels of concrete, existing resilient floors, ceramic terrazzo, marble and polymeric poured floors; suspended wood
Environmental Considerations
Either low in VOC's (less than 150 g/L, SCAQMD) or have no VOC's (calculated at 70° F, SCAQMD); Nonflammable; Ammonia-free and low odor; Contain low or no organic solvents; Contain no reportable hazardous substances (per current regulations)
14 g/L; calculated and reported, SCAQMD 1168
S-891 Notched Steel Trowel or S-892 Replaceable Blade Trowel; Porous and nonporous subfloors or existing floors; fine notch (1/32" deep, 1/16" wide, 5/64" apart)
Porous subfloors (set-in-wet): Minimum 10-20 minutes; Nonporous subfloors (dry-to-touch): 30 minutes or more
Up to 1 hour over existing flooring - NOTE: Working times vary based on job conditions, subfloors, temperature and humidity.
Coupon Offers
Find a Store
Find a flooring store in the U.S. or Canada