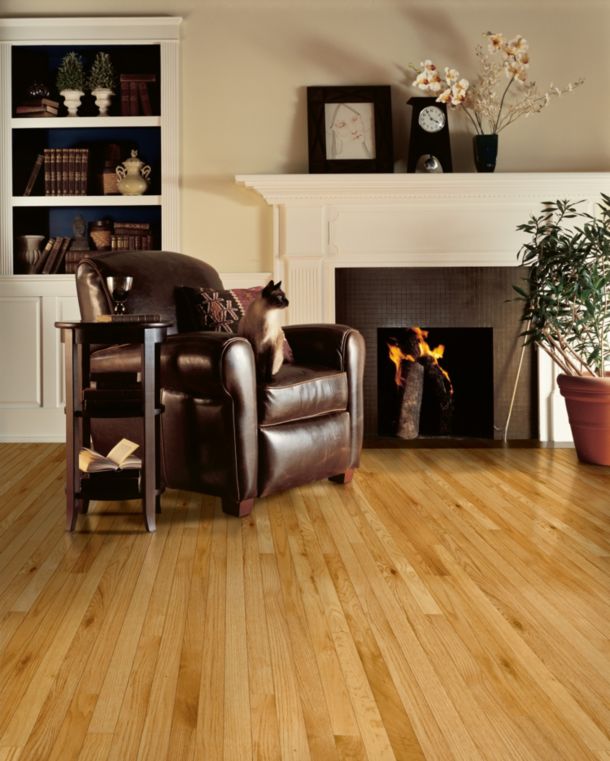 Don't forget your cat's comfort needs when shopping for a new floor. The next time you're redecorating a room, consider these flooring options that are ideal for cats – and the rest of the family. Remember, regardless of the floor you choose, it's a good idea to keep your cat's nails trimmed.

Flooring Options for Cats

Hardwood - If you love the look of genuine hardwood there are a few things to consider if you have feline friends. Not all hardwoods are created equal and some can scratch or warp if not cared for properly. Our top recommendation for homes with cats is our Performance Plus Commercial Hardwood line. This flooring has a durable protective coating as well as micro-beveled edges that allows cat's claws to grip to the flooring and reduce scratching. This collection also offers a lower gloss level that helps mask imperfections. We also recommend selecting hardwood flooring that's distressed with a rustic "lived-in" look to hide any damage your kitty may cause. Care must be given to protecting hardwood flooring from moisture so use a mat under water bowls and quickly wipe up any puddles.

Laminate - With its multilayer construction, laminate delivers unsurpassed wear and stain resistance, making it a highly durable floor for cat owners. You'll also find today's laminates realistically capture the look of more expensive natural flooring materials like stone and wood. For a unique look in laminate, check out wide plank floors in a hand-scraped finish. The textured surface makes it easier for cats to get around.

Luxury Flooring - If you want your feline to stroll across a softer floor, we recommend our Vivero Luxury Flooring collection. As durable as it is beautiful, Vivero flooring is made with Diamond 10™ Technology that's more scratch and stain resistant than any other luxury flooring product. This flooring is also 100% waterproof so there's no crying over spilled milk. An easy DIY installation project, luxury vinyl planks are designed to resemble hardwood flooring planks while delivering superior water resistance and durability. Luxury vinyl is easy to clean and maintain. Unlike the hard, cold surfaces of ceramic and porcelain tile, your cat will enjoy surer footing on a more comforting surface.

These flooring options for cats fit a range of budgets and design styles. Choosing the right flooring for your cat will provide lasting comfort for both you and your feline family member.