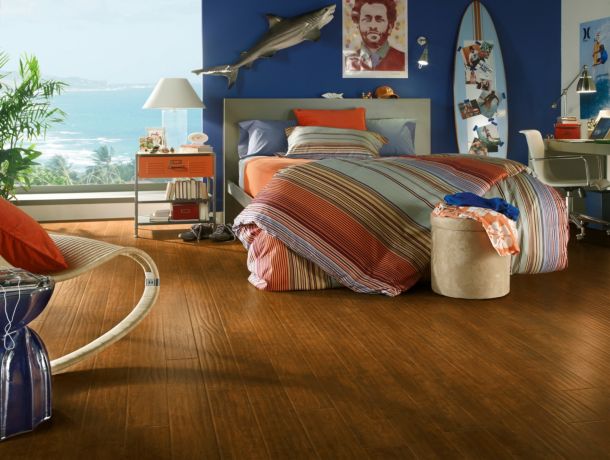 Hand-scraped hardwood floors have been around since the pioneering days and have never completely gone out of style. That's because the rustic warmth and charm of a hardwood floor, gently worn by time and footsteps, has appealed to generations of homeowners.
If you want the striking looks and long-lasting performance of traditional hand-scraped hardwood, but have a busy family and a smaller budget in mind, then hand-scraped laminate flooring is an excellent alternative. These floors have the realistic appearance of their hardwood counterparts, along with the added durability and easy maintenance of affordable laminate.
Hand-scraped laminate floors have a contoured surface that looks comfortably "lived in". Individual planks bear the subtle grooves, scallops and scrapes – even beveled edges – of an artisan's chisel. Choose from popular wood species like oak, walnut and cherry in a variety of stains. From the pale, driftwood look of White Wash Walnut to the rich elegance of Homestead Plank – you'll find hand-scraped laminate flooring to match any interior theme.
All Armstrong laminate floors are made with convenience and durability in mind. Their tough finish provides great resistance to scratches, dents, spills and everyday household traffic and incidents.
Once you've found the perfect hand-scraped floor, you'll want to keep it looking like new for years to come. That's no problem with laminate! It's easy to clean and resistant to water and fading. And don't worry about the sculpted surface of hand-scraped laminate catching dirt or snagging on furniture. The carving technique used shows a visible hand-scraped surface, yet one that is level enough for chairs and tables to glide over smoothly.
If you're a do-it-yourselfer, the convenience of Armstrong's lock& fold installation technology means the rustic, hand-scraped floor of your dreams is only a weekend away.
Hand-scraped laminate flooring gives you the classic look of traditional hardwood and the ease of laminate without sacrificing quality, durability or style.