4, 5, 6 in. Engineered Hardwood Random Width Plank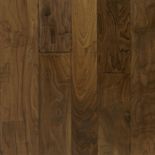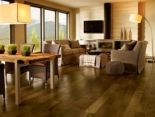 Details
Specifications
Price This Floor
Residential Warranty : 25 years
Engineered
Permion Urethane
Look
Medium Gloss
Hand-scraped
Pillowed Edge / Pillowed Ends
Measurement
4, 5, 6 in.
Varying Lengths: 10 - 48 in.
Installation
Below/On/Above Ground Level
Glue or Staple or Floating
Product Classification
Board-to-Board Color Variation
Wood is a natural material that features changes in color and tone. The board-to-board color variation is more pronounced in some species, less in others. If you like the look of contrasting light and dark tones, select a species that offers most color variation. If you prefer consistent color from board to board, choose the least color variation.
Hardness Scale
The density/hardness of the wood species and its ability to withstand foot traffic, children and pets will impact its wear performance, and will vary from species to species. Strong, resilient Oak is used as the industry benchmark. The hardness scale shown to the left shows the relative hardness of this wood species.
Installation
Download Installation Guide
Download the complete Armstrong product installation guide.
3/8" & 1/2" Eng. Hardwood Installation Instructions
Professional Installation
No matter what
flooring
type you choose, we recommend you consult your retailer to locate an Armstrong Certified Installer near you. Armstrong Certified Installers undergo rigorous flooring installation training on all
Hardwood flooring
products. You can rest assured that when you use an Armstrong Certified installer, your
wood flooring
will be installed properly and provide many years of satisfaction.
Find an Armstrong Certified Installer
DIY Installation
Trim and Moldings
Trim and Moldings Overview
Complete your floor with coordinated transitions such as threshold, stair nose, reducer strip, quarter round and t-molding. We offer a complete selection of species and colors providing the finishing touch to your flooring installation
Trim and Moldings for - Walnut - Artesian Whisper Brown
Quarter Round
TQ0WA237M
A molding used to cover expansion space next to baseboards, case goods, and stairs steps. Pre-drill and nail to the vertical surface, not to the floor.
Reducer Strip
TR5WA237M
A teardrop shaped molding used around fireplaces, doorways, as a room divider, or as a transition between wood flooring and adjacent floor coverings that are less thick. Fasten down with adhesive, small nails or double-faced tape.
Stair Nose
TS5WA237M
A molding undercut for use as a stair landings trim, elevated floor perimeters, and stair steps. Fasten down firmly with adhesive and nails or screws. Pre-drill nail holes to prevent splitting.
T-Molding
TM0WA237M
A molding used as a transition piece from one flooring to another of equal height or to gain expansion spaces. Fasten at the heel in the center of the molding. Additional support may need to be added to the heel of the molding dependent upon the thickness of the goods covered.
Threshold
TH0WA237M
A molding undercut used against sliding door tracks, fireplaces, carpet, ceramic tile, or existing thresholds to allow for expansion space and to provide a smooth transition in height difference. Fasten to subfloor with adhesive and/or nails through the heel. Pre-drill nail holes to prevent splitting.
Customer Reviews
Rated

2.2

out of

5

 by

5

reviewers.
Rated

1

out of

5
 by
marc
Looks nice but don't waste your money. There are better products out there.
My wife and I moved into a new Toll Brothers house eight weeks ago and loved the look of the engineered wood flooring (Artesian Whisper Brown). We paid a substantial amount of money for this flooring and it already shows numerous scratches and scrapes throughout all areas in the house where this wood flooring was used. This damage is only after eight weeks of use and under normal living conditions. I regret having picked this Armstrong product for my new home and have notified Toll Brothers corporate offices about what I think is a faulty product being offered as a choice to their consumers. I have no choice now but to spend my time and more money trying to repair and maintain an eight week old Armstrong engineered floor that should have the lowest durability rating possible. I don't think I'm being too extreme in expecting a wood floor that can be walked on over an eight week period without showing scratches everywhere. For those of you considering this product, my recommendation is to look for another and better product than what Armstrong is providing unless you want a great looking floor to look at but can't walk on because it damages easily.
November 27, 2015
Rated

2

out of

5
 by
Allison
Not durable
I would agree with other reviews, this floor looks fabulous when it's first installed. However it scratches extremely easily leaving white marks that don't blend in with distressed look. I am very disappointed in it's durability and if I was able to do the floors again I wouldn't choose this product.
March 18, 2015
Rated

2

out of

5
 by
NoeTee
Scratches Easily
I like a hardy hardwood but these floors scratch easily and when they scratch it leaves a sort of white look that isn't easy to fix with stains or filer and does not blend in with the scraped look that these floors are supposed to have. In fact, our floors were already terribly scratched before we moved in (new construction) and even though we don't wear shoes in the house, have no pets, and we keep rugs on the floors they are in terrible shape after just two years. If you do wear shoes in your house beware. There is one area in the house that we do wear shoes and that is in the entry way as we kick off shoes at the front door. I have attached a couple pictures of our entry area where shoes do often meet the hardwood. Beyond scrapes the floors have actual puncture holes in them from my high heels. I weight 118lbs so it's not like I'm rolling in with excess weight and even then, there are multiple puncture marks and cracks in that area. Just seems like a really low quality product. From afar the floors look good but if you get up close you can see scratches all over and they do not support normal wear and tear. It seems like a really soft wood product with a short life cycle. In the pictures I've included two captures of scratches and two of the dents. I would not buy them again or recommend them to a friend.
January 16, 2015
Rated

1

out of

5
 by
Grandpa16
Product is beautiful, but
We put well over $10K of this flooring in our new home and after 15 months it looks far worse than the hardwood flooring that we had in our old house for 19 years! The product is not durable at all. My wife and I are extremely disappointed with the performance of this flooring and absolutely do not recommend it to anyone that actually lives in their home.
November 16, 2014
Rated

5

out of

5
 by
akotz1
Unbelievable colors and style. Definitely the finishing touch to our new house!
Absolutely everything we could've asked for. The style and look is beautiful and everyone compliments it. The colors vary tremendously especially with the different size wood pieces and give it both a classic and yet modern look as well. The hand scrape look is probably what creates this. Again, absolutely amazing!
October 9, 2013
Questions & Answers
Coupon Offers
Armstrong Showrooms
These elite retailers display the broadest selection of Armstrong flooring from every product category, plus have: an expert team of Armstrong certified product professionals dedicated to helping you choose the right floor, an Armstrong 30 Day Customer Satisfaction Guarantee and extended Armstrong product warranties.
Premier Showrooms
Premier retailers offer an extensive selection of Armstrong flooring in most product categories. They have Armstrong certified product professionals dedicated to helping you choose the right floor. Installation services will vary from store to store.
Find a Store
Find a flooring store in the U.S. or Canada