5 in. Engineered Hardwood Wide Plank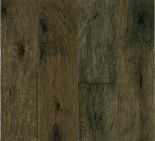 Hickory - Misty Gray
5 in. Engineered Hardwood Wide Plank
Price This Floor
Order Sample
Samples Out Of Stock
Design a Room
Coupon Offers
Find a Store
Details
Specifications
Price This Floor
Residential Warranty : 25 years
Engineered
HartGuard Deluxe
Look
Low Gloss
Hand-scraped
Beveled Edge / Beveled Ends
Measurement
5 in.
Varying Lengths: 10 - 48 in.
Installation
Below/On/Above Ground Level
Glue or Staple or Floating
Product Classification
Board-to-Board Color Variation
Wood is a natural material that features changes in color and tone. The board-to-board color variation is more pronounced in some species, less in others. If you like the look of contrasting light and dark tones, select a species that offers most color variation. If you prefer consistent color from board to board, choose the least color variation.
Hardness Scale
The density/hardness of the wood species and its ability to withstand foot traffic, children and pets will impact its wear performance, and will vary from species to species. Strong, resilient Oak is used as the industry benchmark. The hardness scale shown to the left shows the relative hardness of this wood species.
Installation
Download Installation Guide
Download the complete Armstrong product installation guide.
3/8" & 1/2" Eng. Hardwood Installation Instructions
Professional Installation
No matter what
flooring
type you choose, we recommend you consult your retailer to locate an Armstrong Certified Installer near you. Armstrong Certified Installers undergo rigorous flooring installation training on all
Hardwood flooring
products. You can rest assured that when you use an Armstrong Certified installer, your
wood flooring
will be installed properly and provide many years of satisfaction.
Find an Armstrong Certified Installer
DIY Installation
Trim and Moldings
Trim and Moldings Overview
Complete your floor with coordinated transitions such as threshold, stair nose, reducer strip, quarter round and t-molding. We offer a complete selection of species and colors providing the finishing touch to your flooring installation
Trim and Moldings for - Hickory - Misty Gray
Quarter Round
TQ0HC192L
A molding used to cover expansion space next to baseboards, case goods, and stairs steps. Pre-drill and nail to the vertical surface, not to the floor.
Reducer Strip
TR5HC192L
A teardrop shaped molding used around fireplaces, doorways, as a room divider, or as a transition between wood flooring and adjacent floor coverings that are less thick. Fasten down with adhesive, small nails or double-faced tape.
Stair Nose
TS5HC192L
A molding undercut for use as a stair landings trim, elevated floor perimeters, and stair steps. Fasten down firmly with adhesive and nails or screws. Pre-drill nail holes to prevent splitting.
T-Molding
TM0HC192L
A molding used as a transition piece from one flooring to another of equal height or to gain expansion spaces. Fasten at the heel in the center of the molding. Additional support may need to be added to the heel of the molding dependent upon the thickness of the goods covered.
Threshold
TH0HC192L
A molding undercut used against sliding door tracks, fireplaces, carpet, ceramic tile, or existing thresholds to allow for expansion space and to provide a smooth transition in height difference. Fasten to subfloor with adhesive and/or nails through the heel. Pre-drill nail holes to prevent splitting.
Customer Reviews
Rated

2.3

out of

5

 by

7

reviewers.
Rated

1

out of

5
 by
Dusto
Having to replace all flooring in brand new home...
Flooring is defective and all floor are splintering and breaking.
December 16, 2015
Rated

4

out of

5
 by
8Philly8
Beautiful and Different Hardwood Floor
We were highly concerned before purchasing this floor based on the other reviews, but luckily we have not had any of the issues that were mentioned. The floor was relatively easy to install with some good wood glue. The appearance has a gray hue to it and the knotty look was exactly what we were looking for. In terms of the concerns around the floor splintering, the knots do have a rougher texture, but as long as you're not sliding across that should not be an issue. Overall, we are very happy with it. I will say that it's important to buy the trim ahead of time as we've had difficulty getting that even calling a few of the retailers mentioned on the armstrong site.
March 3, 2015
Rated

2

out of

5
 by
grannyinohio
surface is as thick as nail policy
We put 1,000 square feet of this in our home. We wear slippers, no pets, and are extremely careful. We see splinters coming up where there is bare wood underneath. Anything can cause it to scratch and in the 'knots' the stain was caked on and comes off when wiping so there is no stain underneath. We have not been given any way of scratch repair or filling in the areas where the stain has come off, like a colored pen or product to repair it. We worried when it came in, as the stain appeared to be no more deep than nail polish on the surface….. This is a great disappointment and we don't know what to do. It was purchased from DirectBuy and installed by professionals but it obviously isn't going to last.
April 11, 2014
Rated

2

out of

5
 by
LouisianaMan
Chips and Flakes to easy
I had this product Installed through out my home bad idea. It looks amazing but after one year it has chip marks from wearing socks and getting it caught or using a swifter sweeper. In some random spots the top layer has started to just separate and peel away. If this was happening some 8-10 years down the road I wouldn't be as mad, but only being in the house for 1 year is crazy.
March 19, 2014
Rated

4

out of

5
 by
Alex
Very nice and very durable
I agree with parts of the other reviews for this floor, but I would disagree mostly. First, this floor is VERY durable. Because hickory is a very hard wood, this flooring is very tough. Shortly of scratching it with a sharp nail, this floor hardly shows any ordinary wear at all. (I've had this floor installed for over a year now.) However, because hickory is also very knotty, there are some places where the wood might splinter, so I can see the other reviewers' point. HOWEVER, I've also never had a problem with the splinters myself; I always walk around wearing socks, and none of my socks have ever caught onto a splinter and caused problems. Now, with regards to using it in a kitchen--I disagree completely with the review which complained about this issue. First, it's somewhat unreasonable to think that hardwood would be as durable/waterproof as tiles in a kitchen. This is just common sense. Armstrong says that it is suitable for use in a kitchen, and that is totally true. I use it in my kitchen. Stains/oils/water wipes off very cleanly. OF COURSE there will be gaps, and OF COURSE it's not watertight. Duh!! But unless you intend to hose down your floors in your kitchen every night, this floor is fine. Finally, I want to point out that this floor looks very nice, especially if you like the knotty/rural look. It is also very easy to maintain. Now, I think the only complaint I have is that it comes only in 3 lengths. (The lengths are not random, like some other floors that come in hundreds of different random lengths.) Therefore, you/your installer have to be a little bit careful planning which pieces to use so you get the proper overlap when you wrap around.
March 7, 2014
Rated

2

out of

5
 by
unhappy in NJ
Looks Great, and that is where it stops.
this is a beautiful product, however Armstrong and the retailer, worldwide flooring in NJ lead you to believe this is a good product for a kitchen. I disagree strongly. Looks great, but completely NOT made for a kitchen. It is barely acceptable anywhere you plan to walk on more than occasionally. The last reviewer was correct in all aspects. the other concern is simply water. The planks are poorly sealed leaving small areas with minimal to no protection and as mentioned if you snag a sock on something it will leave even larger unprotected areas. Time will tell, but from what we have seen it will require additional coats of urethane or similar just to be suitable for use. I love the look of the floor and will make the necessary adjustments to make it useable, but I find it sad that armstrong couldn't figure this out during their product testing, or perhaps they forgot that step. and if customer service reads these they can show up with a can of urethane and help :-)
March 10, 2013
Rated

1

out of

5
 by
Disappointed2012
Splinters and rugs catch and snag, as well as terry cloth swivel dry mop.
We are so disappointed with the durability of this wood flooring. We chose the hand scraped finish and hickory engineered planks, because of its so called durability and the aged look; however, we didn't expect it to splinter and peel. Within the first few days of having this flooring, a huge splinter snagged on my husband's sock, which ripped a chunk of wood out of the plank. So we have a large raw piece showing. Every time we wear socks or I wear nylons there is sure to be a snag. I have received a small splinter, and two of our children have too. The foyer rug has snagged several times and has left more raw exposed chunks of wood. The terry cloth swivel mop also snags on this floor.
December 13, 2012
Questions & Answers
Coupon Offers
Armstrong Showrooms
These elite retailers display the broadest selection of Armstrong flooring from every product category, plus have: an expert team of Armstrong certified product professionals dedicated to helping you choose the right floor, an Armstrong 30 Day Customer Satisfaction Guarantee and extended Armstrong product warranties.
Premier Showrooms
Premier retailers offer an extensive selection of Armstrong flooring in most product categories. They have Armstrong certified product professionals dedicated to helping you choose the right floor. Installation services will vary from store to store.
Find a Store
Find a flooring store in the U.S. or Canada