2 1/4 in. Solid Hardwood Strip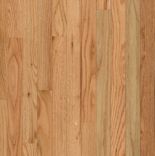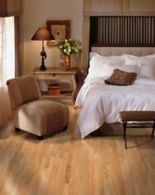 Red Oak - Natural
2 1/4 in. Solid Hardwood Strip
Find a Store
Details
Specifications
Residential Warranty : 15 years
Solid
Dura-Luster Plus Urethane
Look
High Gloss
Traditional Finish
Micro Edge / Square Ends
Measurement
2 1/4 in.
Varying Lengths: 8 1/4 - 84 in.
Installation
Product Classification
Board-to-Board Color Variation
Wood is a natural material that features changes in color and tone. The board-to-board color variation is more pronounced in some species, less in others. If you like the look of contrasting light and dark tones, select a species that offers most color variation. If you prefer consistent color from board to board, choose the least color variation.
Hardness Scale
The density/hardness of the wood species and its ability to withstand foot traffic, children and pets will impact its wear performance, and will vary from species to species. Strong, resilient Oak is used as the industry benchmark. The hardness scale shown to the left shows the relative hardness of this wood species.
Installation
Download Installation Guide
Download the complete Armstrong product installation guide.
3/4" Solid Wood Flooring Installation Instructions
Professional Installation
No matter what
flooring
type you choose, we recommend you consult your retailer to locate an Armstrong Certified Installer near you. Armstrong Certified Installers undergo rigorous flooring installation training on all
Hardwood flooring
products. You can rest assured that when you use an Armstrong Certified installer, your
wood flooring
will be installed properly and provide many years of satisfaction.
Find an Armstrong Certified Installer
DIY Installation
Trim and Moldings
Trim and Moldings Overview
Complete your floor with coordinated transitions such as threshold, stair nose, reducer strip, quarter round and t-molding. We offer a complete selection of species and colors providing the finishing touch to your flooring installation
Trim and Moldings for - Red Oak - Natural
Combination Base & Shoe
T770
A molding used when a base is desired. Used to cover expansion space between the floor and the wall. Pre-drill and nail into the wall, not the floor.
Quarter Round
T740
A molding used to cover expansion space next to baseboards, case goods, and stairs steps. Pre-drill and nail to the vertical surface, not to the floor.
Quarter Round
TQ0RK24HZ
A molding used to cover expansion space next to baseboards, case goods, and stairs steps. Pre-drill and nail to the vertical surface, not to the floor.
Reducer Strip
T720
A teardrop shaped molding used around fireplaces, doorways, as a room divider, or as a transition between wood flooring and adjacent floor coverings that are less thick. Fasten down with adhesive, small nails or double-faced tape.
Stair Nose
T73078
A molding undercut for use as a stair landings trim, elevated floor perimeters, and stair steps. Fasten down firmly with adhesive and nails or screws. Pre-drill nail holes to prevent splitting.
T-Molding
TMSRONA6045
A molding used as a transition piece from one flooring to another of equal height or to gain expansion spaces. Fasten at the heel in the center of the molding. Additional support may need to be added to the heel of the molding dependent upon the thickness of the goods covered.
Threshold
THSRONA6055
A molding undercut used against sliding door tracks, fireplaces, carpet, ceramic tile, or existing thresholds to allow for expansion space and to provide a smooth transition in height difference. Fasten to subfloor with adhesive and/or nails through the heel. Pre-drill nail holes to prevent splitting.
Customer Reviews
Rated

5

out of

5

 by

1

reviewer.
Rated

5

out of

5
 by
Joe S
Quality engineering, beautiful finished product, minimal waste
We selected this product for the entrance foyer when the house was first built 14 years ago. I then used the same Laurel Oak for our den right off the foyer and installed it myself in 2007. Now, in 2013, I installed the same product in the living room. This is a 15x25 living room, 375 square feet. At 20 square feet per case, the room measures out to needing 18.75 cases. I fully used 19 cases, so there is minimal waste product in the cases. There are possibly one or two boards per case that are a little out of alignment, but you can usually fit them in easily. The pieces lock together beautifully and even if they don't seem to fit with a full tightness after banging them in place with a mallet, once you hit it with the floor nailer, they grab right into place. Installation is not for the faint of heart, but it can be done by someone with moderate DIY and carpentry skills. You need the right tools. Buy the Flooring Nailer from Harbor Freight. It is a great deal at full price, but keep your eye out for coupons and discounts. I got mine for $120. It beats renting one from your local retailer. Now, I'll sell it on Craig's List for a steep discount so that someone will buy it, and then pocket the savings. For this space, including flooring and trim work it took me about 28 hours. It will go much quicker if you have two people working the install as one can be nailing a row while the next person is racking up the next row. Regarding finish, we have two dogs and have for all 14 years on that hall foyer and there are no scratches to the finish. I'm not a fanatic about cleaning (!), but the product looks beautiful all the time. We have a Roomba that vacuums on a daily basis to keep the dog hair from flying, but other than that, this Bruce floor just keeps looking wonderful. The variety of tones in each case varies, so you know it's real wood with real grain and color. The varieties blend together in beautiful harmony. Excellent product; highly recommend.
November 3, 2013
Questions & Answers
Find a Store
Find a flooring store in the U.S. or Canada