5 in. Engineered Hardwood Wide Plank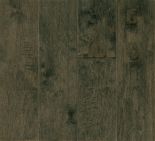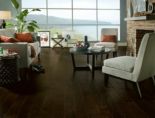 Maple - Silver Shade
5 in. Engineered Hardwood Wide Plank
Price This Floor
Order Sample
Samples Out Of Stock
Design a Room
Coupon Offers
Find a Store
Details
Specifications
Price This Floor
Residential Warranty : 25 years
Engineered
HartGuard Deluxe
Look
Low Gloss
Hand-scraped
Beveled Edge / Beveled Ends
Measurement
5 in.
Varying Lengths: 10 - 48 in.
Installation
Below/On/Above Ground Level
Glue or Staple or Floating
Product Classification
Board-to-Board Color Variation
Wood is a natural material that features changes in color and tone. The board-to-board color variation is more pronounced in some species, less in others. If you like the look of contrasting light and dark tones, select a species that offers most color variation. If you prefer consistent color from board to board, choose the least color variation.
Hardness Scale
The density/hardness of the wood species and its ability to withstand foot traffic, children and pets will impact its wear performance, and will vary from species to species. Strong, resilient Oak is used as the industry benchmark. The hardness scale shown to the left shows the relative hardness of this wood species.
Installation
Download Installation Guide
Download the complete Armstrong product installation guide.
3/8" & 1/2" Eng. Hardwood Installation Instructions
Professional Installation
No matter what
flooring
type you choose, we recommend you consult your retailer to locate an Armstrong Certified Installer near you. Armstrong Certified Installers undergo rigorous flooring installation training on all
Hardwood flooring
products. You can rest assured that when you use an Armstrong Certified installer, your
wood flooring
will be installed properly and provide many years of satisfaction.
Find an Armstrong Certified Installer
DIY Installation
Trim and Moldings
Trim and Moldings Overview
Complete your floor with coordinated transitions such as threshold, stair nose, reducer strip, quarter round and t-molding. We offer a complete selection of species and colors providing the finishing touch to your flooring installation
Trim and Moldings for - Maple - Silver Shade
Quarter Round
TQ0MA198L
A molding used to cover expansion space next to baseboards, case goods, and stairs steps. Pre-drill and nail to the vertical surface, not to the floor.
Reducer Strip
TR5MA198L
A teardrop shaped molding used around fireplaces, doorways, as a room divider, or as a transition between wood flooring and adjacent floor coverings that are less thick. Fasten down with adhesive, small nails or double-faced tape.
Stair Nose
TS5MA198L
A molding undercut for use as a stair landings trim, elevated floor perimeters, and stair steps. Fasten down firmly with adhesive and nails or screws. Pre-drill nail holes to prevent splitting.
T-Molding
TM0MA198L
A molding used as a transition piece from one flooring to another of equal height or to gain expansion spaces. Fasten at the heel in the center of the molding. Additional support may need to be added to the heel of the molding dependent upon the thickness of the goods covered.
Threshold
TH0MA198L
A molding undercut used against sliding door tracks, fireplaces, carpet, ceramic tile, or existing thresholds to allow for expansion space and to provide a smooth transition in height difference. Fasten to subfloor with adhesive and/or nails through the heel. Pre-drill nail holes to prevent splitting.
Customer Reviews
Rated

4

out of

5

 by

3

reviewers.
Rated

5

out of

5
 by
Loveit
Gorgeous color!
This is my first wood floor purchase. I'm so happy with the color choice. It was featured in the model home and I feel in love with it. Yes, it is a darker color (browns & grays) so it will show dust & pet hair. I don't mind because its a reminder to clean. :) You will not be disappointed!
November 23, 2015
Rated

3

out of

5
 by
JulieDFW
Beautiful floor but way too susceptible to deep scratches
I love my flooring (installed by the home builder) and I love the shade, but as in the other review I just read, it does show a lot of dust and dog hair - not the fault of the manufacturer - but any dark flooring will do this. However, if you are looking for something with a slight gray tint to it, this works excellent. My main problem is the softness of the wood/product. We moved in during November and immediately started unboxing Christmas ornaments to decorate. Some of the ornaments lost their colorful crystals and ended up on the floor underfoot, or under chair legs, etc. I have deep, through the wood, scratches down to the light untreated surface color of the wood. Wow. I was surprised. I have over 2500 sf of this wood and every room has deep scratches. My kids are even grown and out of the house now so there's little traffic. I'm sending Armstrong an inquiry about what type of filler product I can buy to take care of this. After living here 7 months, I also have hundreds of light scuff marks that won't come off with regular cleaner (mop style or hand rag) that were created by table and chair legs - so I am inquiring about a different product for that as well. Prior to this house, I came from a house with 3000 sf of genuine handscraped hardwoods and never once had a scratch in the ten years I lived there - including big dogs and multiple growing kids. Big difference in wood hardness. However, I absolutely love the color and it is hard to find in the genuine hardwoods.
June 18, 2015
Rated

4

out of

5
 by
marcluca42
Recommended, but with caution
I've had the floor installed for one month now (January 2013). As background, I used about 1,000 sq. ft of product on a concrete slab, covering the first floor (foyer, office, living room, kitchen, pantry, closets and powder room). I was looking for a fine grain product with a grey color. I also wanted some natural warmth from brown hues to come through the stain. It seems that many producers are attempting to make this color, although many tend toward a deep brown or an industrial grey. The Armstrong product was the only I found (after four months of research) that seemed to balance the grey/brown mix. The small sample board looked good in my space. After I received the product and inspected individual boards, I thought that the product might be too brownish. As it was installed, I began to see the considerable grey come through, as well as how deep and dark the color is overall. It is a decidedly dark floor. After a month, I can tell you that it looks graphite or nearly black at night or dim lighting, but in the sun, warm browns come through, along with a wonderfully rich grey. It is a wonderful color and changes in the light. The maple is characteristically smooth, with fine grain. That said, it has whorls and knots that add color, variety and character (in addition to the rural living distressed feature). Overall, I am pleased with the floor, but have some reservations. Everyone that visits comments on how beautiful the floor is, but the dark color means that every speck of lint or carpet fuzz shows. I've noticed that dust also is visible in the daylight and I might soon adopt a routine of wiping it each week to address the dust build-up, especially in low traffic areas (like corners and near walls and furniture). The product is also ribbed, which creates a regular wavy pattern at even intervals across the floor. Not sure if I am a fan of this characteristic, but I have gotten used to it. I did not notice this feature at all on the sample boards, but I should have. As another reviewer mentioned, the boards have knots which are not wholly smooth and can snag socks if not careful. My biggest issue/fear is the scratch resistance of the product. I live alone, but have my 4 year old son often. Moving furniture back onto the floor created some light-colored scratches that are visible (to me) on the dark finish. I wonder how long it will be before I see scrapes and marks on the high traffic areas. Again, there are very few people walking on it every day. The main question is would I buy it again. I would. It is a beautifully-colored floor that will require more maintenance than a lighter colored floor. But when clean, it is stunning.
January 28, 2013
Questions & Answers
Coupon Offers
Armstrong Showrooms
These elite retailers display the broadest selection of Armstrong flooring from every product category, plus have: an expert team of Armstrong certified product professionals dedicated to helping you choose the right floor, an Armstrong 30 Day Customer Satisfaction Guarantee and extended Armstrong product warranties.
Premier Showrooms
Premier retailers offer an extensive selection of Armstrong flooring in most product categories. They have Armstrong certified product professionals dedicated to helping you choose the right floor. Installation services will vary from store to store.
Find a Store
Find a flooring store in the U.S. or Canada