12 mm Laminate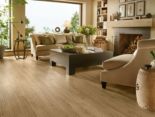 Sand Dollar Oak
12 mm Laminate
Price This Floor
Order Sample
Samples Out Of Stock
Design a Room
Coupon Offers
Find a Store
Details
Specifications
Price This Floor
Residential Warranty : 30 years
Light Commercial Warranty : 10 years
Commercial Warranty : 5 years
Armstrong MasterWorks / HydraCore
VisionGuard
Look
Low Gloss
Pressed Edge / Pressed Ends
Measurement
Installation
Below/On/Above Ground Level
Installation
Download Installation Guide
Download the complete Armstrong product installation guide.
Armstrong and Bruce Laminate Installation
Professional Installation
No matter what
flooring
type you choose, we recommend you consult your retailer to locate an Armstrong Certified Installer near you. Armstrong Certified Installers undergo rigorous flooring installation training on all
Laminate flooring
products. You can rest assured that when you use an Armstrong Certified installer, your floor will be installed properly and provide many years of satisfaction.
Find an Armstrong Certified Installer
DIY Installation
Demo
Trim and Moldings
Trim and Moldings Overview
Complete your floor with coordinated transitions such as threshold, stair nose, reducer strip, quarter round and t-molding. We offer a complete selection of species and colors providing the finishing touch to your flooring installation
Trim and Moldings for - Sand Dollar Oak
Flush Stairnose
M53E4
Used for stairs, stepdowns and landings.
Multi-purpose Reducer
M50E4
Finishes the space between laminate flooring and other flooring surfaces, carpet, or where quarter-round and wall base cannot be used.
Quarter Round Molding
M51E4
Finishes the space where the laminate flooring meets the wall.
Step Nose
M56E4
Use where laminate meets a step-down or landing.
T-Molding
M52E4
Finishes the space between two pieces of laminate flooring.
Customer Reviews
Rated

4.1

out of

5

 by

17

reviewers.
Rated

5

out of

5
 by
Kelsey1965
Beautiful unique floor
I had this floor professionally installed about two weeks ago I love the color and couldn't find anything else on the market like it I was nervous because I heard a few bad reviews about creaking. The installers absolutely love the floor were very impressed with how easy it was to install and asked where I got it because they thought it was so beautiful. so far so good I'm very happy. I can't stop looking at my new floor! We have another investment house we just purchased and are installing it in there as well. Armstrong's website was very informative and helpful.
November 20, 2015
Rated

1

out of

5
 by
c6211410
Creaky floor
Brand new house, concrete slab and the floors creaked and "popping" sound since day one. After numerous visits to inspect, Armstrong finally replaced our first set of flooring due to a "bad batch". We installed the L3064 and still creaking and popping. Installers said Armstrong products cause them a lot of problems and wished the builder picked a different vender. We know of a couple of other houses that had to have their Armstrong floors replaced.
August 16, 2015
Rated

5

out of

5
 by
Dynacool1
Easy to install and looks great
I installed this product throughout a high end condo with plenty of window space in downtown Vancouver. I painted the walls in the living room a very light lime green and the floor reflected the green wonderfully. The walls in the bedroom i painted a light pink. Again the reflection was great. This product looks rich and classy when finished with the correct trim pieces. I would highly recommend i
August 9, 2015
Rated

5

out of

5
 by
Shaylin50
Great looking floor
I just had this installed and it looks great, all my friends love it also. So far have not had any issues with it. With the high gloss needs dusting more then other floors, but looks so great that is not a problem. I would recommend this product.
July 18, 2015
Rated

1

out of

5
 by
devin14
Delaminating
WOuld not recommend the flooring. Within six months my floor is delaminating and company does not stand behind warranty!
October 23, 2014
Rated

2

out of

5
 by
belangerlm
Beautiful floor but impossible to keep clean
Love this floor but we installed it in a sunroom/kitchen area with LOTS of windows and due to all the natural light every spec of dirt or smudge shows. I would not recommend for this floor for an area with too much natural light. In any room be prepared to clean this floor a lot as it is high gloss. If I had it to do over again I would not get a high gloss floor. Too bad because it is a beautiful floor.
September 11, 2013
Rated

5

out of

5
 by
dakarvishal
Beautiful floor, after a year!
My wife had chosen this floor because of the way it looks and the thickness of the laminate boards compared to other laminates. It has been a year since it was installed back in March 2012. The floor looks stunning, easy to maintain. The floor was installed by our contractor, he found it to be very easy to install and we had 350 sq ft installed in a couple of days. We ordered the stair bullnoses to provide a nice look to the stair landing and to the edges where the floor ended on the second floor. Amstrong had all the parts and pieces we needed to complete our project. The Sand Dollar oak gives a unique look to our second floor in our home. Thanks Amstrong for a nice floor. My wife and I are looking forward to our future living room project.
March 3, 2013
Rated

5

out of

5
 by
BR549
This product looks great and easy to work with.
I laid this flooring in the lower level of bilevel house on concrete. It was easy to put down and did not take very long. It has been in for about a year now and my wife loves it. The floor is warmer than the concrete.
March 28, 2013
Rated

4.1

out of

5

 by

17

reviewers.
Rated

5

out of

5
 by
Cat5000
Looks like a real tree is on my floor weathered to perfection
I can't believe how real my new handscraped laminate looks in my living room that spans out to the gorgeous view of my pool. I almost feel like I am at the beach! The handscrapted quality along with the life-like design of this product is incredible(wood knots and all). I think Armstrong hit a home run with this product. It is so easy to care for and the solid feel under my feet is just as good as wood. The only worry I might have is that my dogs Bob Dylan and Travis Tritt might think they have found the perfect tree! I give theArmstrong white wash walnut 12mm laminate a perfect 10! Cat
October 24, 2012
Rated

5

out of

5
 by
Meyer
Stunning...
I wanted a gray laminate floor to complement the gray carpeting and white and gray marble floor that was already in the house. When I saw it on the website I thought it might be too pale but in real life it is darker. The salesperson at the Floor Store let me bring home a large sample board to see what it would look like at home which was great. I had it installed throughout my kitchen and dining room - it is gorgeous. The color is modern and classy and perfectly complements my white cabinets and black granite counters. I am amazed at how it looks like real hardwood boards - I have never seen laminate of this quality before. I was a little afraid of the high-gloss finish but it has a nice rich look to it so it's worth the cleaning. I would definitely repurchase.
September 20, 2012
Rated

5

out of

5
 by
nana10
our floors are AWESOME
We had this put down in 6 rooms in our home and we are so pleased. The pictures of the pattern does not do it justice, it's beautiful.
August 23, 2012
Rated

5

out of

5
 by
BeachyPeachy
This floor is beautiful, highly durable, and easy to clean.
We replaced yucky carpet in 3 bedrooms in our beach rental condo. What a great choice. Looks terrific with the scraped wood finish and adds to the ambiance of life lived oceanfront. Does well with sand and is low maintenance. Feels great walking barefoot, especially on chilly mornings. I am thinking about taking all the ceramic tile out except for the kitchen and continuing the look throughout rest of condo. Ours is a floating floor installation so if someone left a wet towel for weeks or dropped nail polish or something stupid we can just make a repair. Hasn't happened but best to be prepared, as it is such a great looking floor you forget it is laminate -- has a wavy, textured appearance and looks like real wood. Love it!
July 6, 2012
Rated

4

out of

5
 by
AKDude
Awesome looks - Almost too good?
I installed my the Oyster Bay myself throughout my entire apartment. I had no major dramas installing the product at all. The flooring looks almost too good! And let me explain: 1) Everyone who walks into my apartment all instantly comment that the floors look cool. It really does add a nice "pop" to the place that catches everyone's eye. Ironically, I bought friends in to show my kitchen remodel.. and the flooring steals the show! 2) Is it HIGH gloss. Ultra high gloss. Looks great when it's clean, but it will show dust and foot prints very easily. It feels more like I am cleaning these floors as if they are windows, rather than a laminate floor. Installation I have one tip. The manufacturer does say glue isn't necessary unless its a water prone area. I did a hybrid install. In some areas such as hallways and kitchen, I did indeed glue it. In the living room area, I didn't bother with glue. Three months later... the zones where I did not glue are creaking... the zones which I used glue remain perfectly fine. In retrospect, I probably should have just used glue on all of it, even though the manufacturer said it wasn't necessary. Awesome looking floor and great for my bachelor style "low wear" apartment to look really great... but if you want low maintenance.. try choose another flooring with a little less shine to it!
March 3, 2012
Rated

5

out of

5
 by
beach bum
indestructible floor
We replaced 1000 square feet of tile with coastal living sand dollar laminate. The hand scraped look gave the floor a beautiful, authentic look but what has been the greatest surprise has been the durability of the floor. We have two 90 lb. boxers who scratched up a bamboo floor in a bedroom but haven't done a thing to the new floor. The first time the door bell rang and the dogs leaped to their feet my heart sank but a quick inspection revealed NO scratches. For anyone who has pets i highly recommend this floor.
September 13, 2011
Rated

5

out of

5
 by
adrenalyne
LOVE My Oyster Bay Pine
We chose this flooring through our home builder and are very happy with it. It does creak a bit but I have heard that this happens with all of the laminate that have the wider planks. I cannot comment on installation as it was installed when we took possession of our home. It can be high maintenance as it is has a high gloss finish so it gets smudgy very easily however it looks amazing! Love the colour and quality - every time we have someone new over we receive compliments on our floor. I hope to take out some of our carpet and get this laminate throughout our whole home.
October 24, 2011
Rated

5

out of

5
 by
Kima
Just what we were looking for
Perfect! We installed this floor called "boardwalk" in our shore house. The look of the floor goes well with the room and we continue to get compliments on how beautiful the texture of the floor is. We actually love it so much we will install it in our master bedroom this fall.
September 13, 2011
Rated

1

out of

5
 by
mamac509
Creeks and cracks like the flooring is 100 years old ):
Our first laminate flooring experience has been less fulfilling than expected! We purchased what we thought was a higher end laminate floor from a company like Armstrong because of their reputation. The flooring was installed according to the manufacturers specifications (which by the way says to not glue the boards) and looks great but .......the floor boards have separated, they creek and crackle like the floor is 100 years old! We contacted the company we purchased it from and were told sorry but we can't do anything about that. Come to find out this is a problem for alot of other customers as well, just read the blogs about this same flooring!
August 26, 2011
Questions & Answers
Coupon Offers
Armstrong Showrooms
These elite retailers display the broadest selection of Armstrong flooring from every product category, plus have: an expert team of Armstrong certified product professionals dedicated to helping you choose the right floor, an Armstrong 30 Day Customer Satisfaction Guarantee and extended Armstrong product warranties.
Premier Showrooms
Premier retailers offer an extensive selection of Armstrong flooring in most product categories. They have Armstrong certified product professionals dedicated to helping you choose the right floor. Installation services will vary from store to store.
Find a Store
Find a flooring store in the U.S. or Canada