12.30 mm Laminate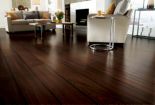 Sapele Long Plank - Wrought Iron
12.30 mm Laminate
Price This Floor
Order Sample
Samples Out Of Stock
Design a Room
Coupon Offers
Find a Store
Details
Specifications
Price This Floor
Residential Warranty : 30 years
Bruce Hi-Def Print with VTx / MagnumPlus HDF Core
G3
Look
Medium Gloss
Beveled Edge / Beveled Ends
Measurement
Installation
Below/On/Above Ground Level
Installation
Download Installation Guide
Download the complete Armstrong product installation guide.
Armstrong and Bruce Laminate Installation
Professional Installation
No matter what
flooring
type you choose, we recommend you consult your retailer to locate an Armstrong Certified Installer near you. Armstrong Certified Installers undergo rigorous flooring installation training on all
Laminate flooring
products. You can rest assured that when you use an Armstrong Certified installer, your floor will be installed properly and provide many years of satisfaction.
Find an Armstrong Certified Installer
DIY Installation
Demo
Trim and Moldings
Trim and Moldings Overview
Complete your floor with coordinated transitions such as threshold, stair nose, reducer strip, quarter round and t-molding. We offer a complete selection of species and colors providing the finishing touch to your flooring installation
Trim and Moldings for - Sapele Long Plank - Wrought Iron
Flush Stairnose
M53H5
Used for stairs, stepdowns and landings.
Multi-purpose Reducer
M50H5
Finishes the space between laminate flooring and other flooring surfaces, carpet, or where quarter-round and wall base cannot be used.
Quarter Round Molding
M51H5
Finishes the space where the laminate flooring meets the wall.
Step Nose
M56H5
Use where laminate meets a step-down or landing.
T-Molding
M52H5
Finishes the space between two pieces of laminate flooring.
Customer Reviews
Rated

2.4

out of

5

 by

14

reviewers.
Rated

1

out of

5
 by
Melissaw662
Floors are a nightmare to keep clean.
I purchased over $12,000.00 worth of the Roasted Bean for my home. The floors are absolutely beautiful ONLY when wet. Once floors are dry, they are hazy and no longer shine. They show EVERY footstep and smudge horribly.. My children can not play with their toys on these floors because they scratch so easily. I am 110% dissatisfied with the floors and would not recommend them. If these floors weren't so new and costly, I would have them torn out and replaced. Every room in my house has numerous scratches and dents. We do not wear shoes in our home, the floors have most definitely had the best of care and still look horrible. I have seen much cheaper floors that look much better than mine. I'm just disgusted that I have wasted my money on such poorly finished floors. It is a real embarrassment when we have guest over and they apologize for making tracks on my floors.
August 17, 2015
Rated

1

out of

5
 by
Elila2000
Beautifully Embarrassing
My husband and I bought beautiful Amstrong Brazilian Sapele floors November of 2013. However, the day they were installed I regretted our purchase. Immediately, I could see all the feet print from the installers. My heart dropped thinking I would have to deal with this horrible decision for years to come. I cleaned the floors as best I could but as I feared all water marks, feet/shoe prints and anything else were visible right away. I love hosting gatherings at our home and yet I have not wanted even family members to come over because of how embarrassed I am about these floors. I have never complained about anything like this before. Even if I get cold fries at McDonald's I eat them rather than asking for fresh ones. That is why it has taken me so long to write this. I also have known that there wouldn't be any compensation. However, I hosted a gathering yesterday for Mother's Day and hearing my mom apologize for "messing up our floors" because you could see all the smudges and feet prints, broke my heart. I couldn't bare it any longer and I need to plead with anything thinking of getting these floors NOT TO!! No one should go through such embarrassment like that! A home should be warm and welcoming, not a place people would ever feel uncomfortable! My husband and I took months to figure out what floors to get. Unfortunately, we still made a horrible mistake. I hope that they would seriously look into no longer carry this product. I don't want anyone else to go through the embarrassment I have dealt with and will continue to endure.
May 11, 2015
Rated

1

out of

5
 by
Disappointed
Very Unhappy and Disappointed
We have had this floor for less than two weeks. We picked a laminate over real wood because the salesperson told us how durable it was. The lifetime warranty was also a huge factor in the decision as we have three little boys. We love the dark color....but that is far as the love goes. Before the installers were even completely loaded into their truck, we began to notice several nicks and scratches which they came out and colored over with a marker. We thought they must have just been really rough while installing. But, as the two weeks have passed, there is not a single room that does not have scratches or nicks or corners chipped. My 18 month old dropped a hotwheel and it left a big ding that went below the top layer of color. He also dropped a sippy cup that dripped out a tiny amount of water....on day one of the new floors mind you....and the board bubbled up on the edge. I was standing right beside him and cleaned it up immediately. I could not believe it left damage to the floor. This is our forever house and we really had planned for these floors to last a very long time. I can't see it lasting five years going by the last two weeks. We are still waiting to hear back from the company about the warranty and are hoping they will stand behind their product, but felt that anyone looking to purchase this particular finish should be warned.
January 20, 2015
Rated

1

out of

5
 by
firefighter
Pay attention before you buy and install
Pay attention to the previous reviews; I read them but discounted them. It is very true that the floor looks beautiful (if wet cleaned and not walked on). Any shoe treads, socks, or bare feet will leave their prints...period! It is also true that almost anything from a screw to a kitchen spoon when dropped on the floor will probably chip...so have a magic marker handy. The locking mechanism is fragile: so pay attention to the comments on the outside of the box (which you don't see on the flooring showroom). When it says that the subfloor must be level, it means absolutely level. These long planks will unlock, buckle, and sound like a 50 year old wood floor from the very beginning if the subfloor is not absolutely leveled. I am a retired firefighter with some experience in flooring and installation, so when I say that this product is extremely disappointing, I am not exaggerating. I also do not expect anyone to be deterred by my review. This is the first review of anything that I have written, if that speaks to you. In summary: read the box comments, take them seriously, read the negative reviews and take them seriously--then make your informed decision. But if you purchase this product, also purchase the Bona wet jet mops and magic markers, because you are going to need them!
September 26, 2014
Rated

2

out of

5
 by
disappointed
disappointed
This flooring looks beautiful... if you don't walk on it. It is a very rich, dark color, looks beautiful right after it is cleaned. The floor smudges really easily. I would expect dust to show up because it is a dark color but the smudges are driving me crazy!! If you walk on the floor with your shoes on, even if you wipe them on a mat, you will see all your shoe prints. I try to wipe it clean with a dry swiffer mop and it doesn't come off. I have to spray and mop for it to come clean. It is such a pain in the butt to keep this floor clean!. Walking on it with your bare feet or socks leaves smudges that won't go away until you spray and mop also. I totally regret picking this flooring. I have a friend that has dark flooring and dust shows up easily on her floor (which is expected) but she doesn't get the smudges the way I do. All she does is keep a dry swiffer handy and wipes the dust away. I also thought this laminate floor was not supposed to chip but it does. If you drop anything hard that weighs more than a pound or two, it will chip the floor. I haven't had it chip the floor by dropping a spoon like a previous reviewer wrote. I am so disappointed that I spent all this money to have this floor put in my house.
June 2, 2013
Rated

3

out of

5
 by
Rebekah
Constantly cleaning, worried about chipping.
I am constantly cleaning this floor since it was put in. When the delivery men drop it off, and I mean dropped!! Several of the bottom boards were broken and/or chipped, I guess this should have been an indication that this floor could chip easily. I was running the dry mop over the floor the other day and a little chip came up on one of the boards, the installer is not quite finished inastalling upstairs so hopefully he can replace or fix it, but I hope that I don't have problems with this flooring. I'll never hear the end of it from my husband, it was just as expensive as real wood, I just wanted the durability that laminate promised. My daughter has real wood and her scratches so easily. Well, I thought I had researched it well enough. If I were to choose again I would go with a lighter flooring so smudges and dust didn't show and chips weren't so easily seen : (
May 2, 2013
Rated

1

out of

5
 by
gunther
scratches and chips easily
We decided to do laminate flooring for about 1300 sq feet of our house since we have two young children and three dogs. We had lived with laminate floors twice before and had been very happy with their durability and scratch resistant features. However this laminate floor has been a huge disappointment. It scratches very easily to the point that our kids cannot play on the floor with many of their toys and only our small dog can be on the floor. Our two larger dogs cannot be on the floor- we discovered this immediately after having the floor installed. If they slide or run on the floor it scratches. This is what bothers me the most-we specifically went with laminate so that our dogs could be in the house! Also the floor chips if anything is dropped on it-our itchen floor has several chips from dropping silverware. Once again, all the years that we lived on previous laminate we never had any scratching or chipping! The final complaint I have is one that previous reviewers have commented on- this floor constantly has smudges and smears from being walked on, to the extent that it only looks clean only if it is not walked on. I can sweep and mop and within an hour of family walking on floor it looks like it hasnt been cleaned in days due to the smudges and smears. Wearing socks does not make a difference. So in summary do not get this floor if you plan to actually live on the floor!
April 8, 2013
Rated

5

out of

5
 by
red bull
Its stood up very well
Installation was very easy, it took longer to rip out carpets and tack strips then to put this laminate down. the long lengths are wonderful I was able to completely cover the stairs using the flooring for the stringers, treads and risers with out having to join planks together to get tread width or stringer width. using the transition strips to cap the stringers worked very well. I chose to use the overlapping stair nosing to provide a lip on the tread surface to prevent slips. I used a PL premium liberaly to secure stair parts to the stairs, no creaks,nothing has buckeled or shifted. Any dark colored floor is hard to keep looking clean, a quick dry mopping is all it takes so not that big of a deal to me. my floor is 1yr old no scratches, no chips, no swelling. spills clean easy
April 5, 2013
Rated

2.4

out of

5

 by

14

reviewers.
Rated

2

out of

5
 by
Tracy
Scratches easily
The same day of install, my children scratched it up while playing with toy trucks while I was attending to the contractors. . I've lived on laminante with my children and never had any scratches. We purchased 1200 sq feet and every room scratched up the first day. We haven't even moved into this home. It's a remodel. Now I'm waiting to hear back from the retailer to see what can be done. Besides that it always looks dirty. I should have gone with the floor I had in my last home. The floor looks stunning if you don't ever walk on it.
August 13, 2012
Rated

2

out of

5
 by
TROY G
Looks great, chips easilly
I just got done putting this product in when my wife dropped a glass bowl from the counter and to my supprise there was a chip where the bowl hit. How does a product with a lifetime warranty chip when a bowl hits it?? The very next day we were unloading the dishwasher and dropped a spoon and the floor recieved not one but two chips. Its a spoon!! How does a spoon chip a floor with a lifetime waranty! I have a 5 and a 2 year old who drove their toy cars on it and what to my supprise surface scratches. I thought I did my reasearch by bringing home several diffrent flooring samples and using a knife on them to see what stood up the the most punishment. This is junk!
June 26, 2012
Rated

4

out of

5
 by
Ranlikegel
Very sharp-looking floor!
I'm a first-time homeowner and I installed the floor myself. The installation is somewhat time consuming but fairly easy, especially with all the correct tools. The pieces lock in place very well, but sometimes it's a bit difficult to actually get them to lock. The size of the pieces cover a lot of ground, so the process goes by much faster than with thinner planks. The edges and corners are delicate and can chip easily if not extremely careful. A more elaborate installation guide would be helpful for some. Overall, I am very happy with the product. I like the look of my new floors; they're sturdy, solid and easy to maintain, and I hope they last a long time.
February 13, 2012
Rated

4

out of

5
 by
dogowner
Looks amazing, very happy
Have had this floor installed for a few months now. Cannot speak to easy of installation since I had a pro install 1500 sq ft of it, but it looked fairly easy. Floors look amazing, I have no complaints there. As I knew going into it, these dark floors are very hard to keep clean, but i dont feel they are any more difficuly than other dark woods. Although dirt shows easily, clean up is a breeze. We have two small dogs and they have had some accidents on these floors. Urine wiped right up and did not leave any stains/discoloring.
January 9, 2012
Rated

5

out of

5
 by
Rody
This floor is great
I put this floor in my townhouse and love it...looks very rich and yet very affordable. Much better than my carpet and people comment every time they see it. A great value and am sure it will raise the value of the house many times over.
January 31, 2012
Rated

1

out of

5
 by
baronep
Unable to keep clean
We just had 600sq feet of this flooring installed and it looks beautiful until you walk on it. It's like a magnet and leaves a mark from shoes, feet, dog feet, anything that touches it. Poor design surface makes this flooring "Extremely Poor" Do not Buy!
September 20, 2011
Questions & Answers
Coupon Offers
Armstrong Showrooms
These elite retailers display the broadest selection of Armstrong flooring from every product category, plus have: an expert team of Armstrong certified product professionals dedicated to helping you choose the right floor, an Armstrong 30 Day Customer Satisfaction Guarantee and extended Armstrong product warranties.
Premier Showrooms
Premier retailers offer an extensive selection of Armstrong flooring in most product categories. They have Armstrong certified product professionals dedicated to helping you choose the right floor. Installation services will vary from store to store.
Find a Store
Find a flooring store in the U.S. or Canada