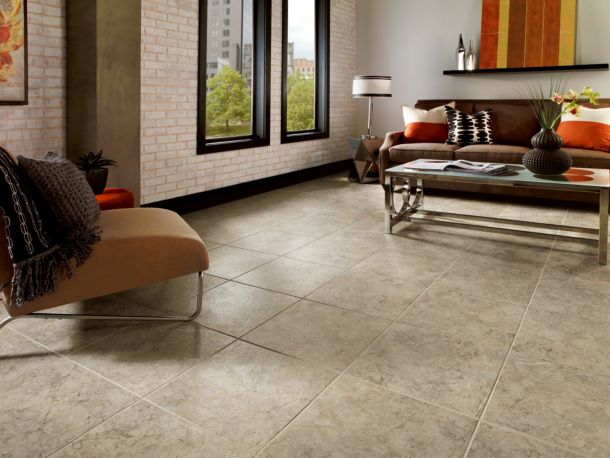 Limestone is one of the most popular natural stones used in residential flooring. But as beautiful as real limestone stone is, there are drawbacks to installing it in your home.
Although heavy, limestone is a soft, porous rock that's susceptible to cracks and breaks, as well as wear and scratch damage from grit. Its porous structure means that limestone easily absorbs stains, and it must be sealed from time to time to keep dirt and soil from becoming embedded. In addition, limestone flooring is not recommended for high traffic areas, and care should be taken to avoid dropping fragile objects that may break.
Comfortable Limestone Flooring
While real limestone requires high maintenance and care, there's another kind of limestone floor that offers all of the benefits and none of the drawbacks: Alterna and Alterna Reserve premium tile. These collections from Armstrong combine an engineered limestone construction with a striking array of natural limestone looks. This premium tile, available in 12"x 12" and 16" x 16" formats, strikes the perfect balance of beauty, comfort, durability and easy care.
Nature-inspired designs of premium tile deliver the rich range of colors occurring naturally in limestone rock. From creamy ivories and whites to silvery sage, gunmetal gray and graphite – the Alterna collection captures the subtle, earthy colors of limestone flooring, while the Alterna Reserve line offers more dramatic colors and distinctive veining. And just like real limestone tiles, the lines have been designed with unique tiles so there are no pattern repeats, allowing for the creation of a more natural-looking floor.
Easy Care
Regular sweeping and occasional mopping will keep your Armstrong limestone flooring looking beautiful. When it comes to durability, an advanced aluminum oxide coating provides superior scratch, stain and wear resistance, while reinforcing the realism of the visuals. Additionally, engineered limestone flooring readily tolerates accidents and drops.
Designed for comfortable living, Alterna premium tile flooring will warm your home with timeless charm.