16 in. x 16 in. Luxury Vinyl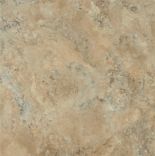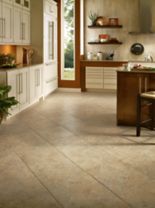 Durango - Buff
16 in. x 16 in. Luxury Vinyl
Price This Floor
Order Sample
Samples Out Of Stock
Design a Room
Coupon Offers
Find a Store
Details
Specifications
Price This Floor
Residential Warranty: Lifetime Limited
Light Commercial Warranty : 5 years
Limestone Enriched Luxury Tile
Urethane No-Wax
Look
Low Gloss
Measurement
Installation
Installation
Download Installation Guide
Professional Installation
No matter what
flooring
type you choose, we recommend you consult your retailer to locate an experienced professional installer. Professional installers have the experience needed to help ensure your floor is installed properly.
DIY Installation
Trim and Moldings
Trim and Moldings Overview
Matching trim is available for a wide variety of resilient floor styles and will provide a finishing touch to your flooring installation.
Trim and Moldings for - Durango - Buff
Multi-Purpose Trim
D4158TRM
Transitions to varying levels. Can be used as T-molding or surface reducer.
Stairnose Trim
D4158STR
Finishes the edges of stairs, step downs, or landings.
Customer Reviews
Rated

4.3

out of

5

 by

7

reviewers.
Rated

4

out of

5
 by
Petowner
Good installation method for my situation
This was a great solution for covering my existing floor. I like the way it looks overall. Some seams look better (more realistic like grout) than others. Have had trouble with it sticking in a few spots but once I left some weights on it for a few days seems ok now. Seems to be easy to care for so far. Is great at not showing every pet hair.
December 25, 2015
Rated

5

out of

5
 by
VGRoberts
Best floor for the worst environment
We installed the Alterna Durango in a second room last month. The first room 3 years ago. It has stood up to 5 children, 2 dogs, and 2 cats without any signs of wear and tear. I recommend it over laminate, carpet, and stone tile!
July 21, 2015
Rated

1

out of

5
 by
Sue1959
Unsatisfactory Durability
I just had this Armstrong Durango-Buff tile installed in November 2014. This floor was far from inexpensive. For the price I expected the quality as well! It looks absolutely beautiful!! But I am soooo disappointed abouth the durability!! I dropped a plate on the floor, it dented the tile and the top layer of laminate peeled right off leaving a one inch long chip into the next layer.....this is the second hole so far since installation. There is a quarter inch long hole in the tile next to it as well that I found when I was cleaning about a month ago. I am not sure how that one got there but I do know there should not be any chips at all!!. I have a residential application and have had new kitchen floors before....the inexpensive self stick floor tiles from Home Depot are more durable then these Armstrong Durango tiles......if I had to worry about occasionally dropping things on the floor I certainly made the wrong choice! The Armstrong kitchen tiles my dad installed 30 years ago in the home I grew up in still look pretty darn good with no chips or dings! Armstrong, what happened?
March 14, 2015
Rated

5

out of

5
 by
Rosa
It looks gorgeous in my bathroom, make it looks bigger and brighter.
I didn't install it myself, I called some company that has a big commercial (Empire). That is my mistake. should go to Home Depot instead, it will be more than $300.00 cheaper. In other word, I got fooled.
June 5, 2014
Rated

5

out of

5
 by
Randy
Beautiful and "warm"!
I'm going to keep this short, as I have just had it installed and I cannot comment on durability or how it looks after a year, but it's been in a week and WOW! This product is absolutely beautiful and gets comments constantly, with nobody believing that it's an Armstrong Luxury Vinyl. Not only is it aesthetically striking, but it is softer than ceramic and it is warmer. When I read the comments about the product online at various forums everyone noted that it is "softer) and warmer, but frankly I didn't believe it and was going to be happy with it for it's beauty and reported durability, but sure enough this floor gets comments about what a nice "feel" it has, softer than tile or stone, and my wife who walks barefoot in the house sometimes noted that it was indeed "warm" as compared to stone or ceramic tiles. Loving it!
May 7, 2013
Rated

5

out of

5
 by
CL53
This product will please everyone!
We have the rich look! We have the luxurious feel! We have the durability! We have the easy care! We have Armstrong Alterna Durango vinyl flooring! No one believes that it is vinyl until they actually walk across our new kitchen floor. Our floor that is quiet, and soft on the feet and so easy to keep clean. We love it and are so excited that Consumer Reports agrees with us!
August 22, 2012
Rated

5

out of

5
 by
jack of trades
Luxury vinyl is worthy!
After completing many floor installations of various types, this floor is superb. My previous knowledge and experience with installs helped complete the job fairly easily. The floor is maintaing the 'new' look to this day. The 'feel' of this floor is comfortable and the texture is soothing. Spilled water is not slippery. I did not believe the claim by Armstrong that this flooring is actually 'warm' during the winter. I believe that claim now! I prefer barefeet on this floor! In summary, a great product and worth every penny!
September 15, 2011
Questions & Answers
Coupon Offers
Armstrong Showrooms
These elite retailers display the broadest selection of Armstrong flooring from every product category, plus have: an expert team of Armstrong certified product professionals dedicated to helping you choose the right floor, an Armstrong 30 Day Customer Satisfaction Guarantee and extended Armstrong product warranties.
Premier Showrooms
Premier retailers offer an extensive selection of Armstrong flooring in most product categories. They have Armstrong certified product professionals dedicated to helping you choose the right floor. Installation services will vary from store to store.
Find a Store
Find a flooring store in the U.S. or Canada