12 in. x 12 in. Luxury Vinyl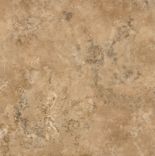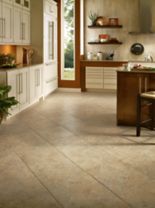 Details
Specifications
Price This Floor
Residential Warranty: Lifetime Limited
Light Commercial Warranty : 5 years
Limestone Enriched Luxury Tile
Urethane No-Wax
Look
Low Gloss
Measurement
Installation
Installation
Download Installation Guide
Professional Installation
No matter what
flooring
type you choose, we recommend you consult your retailer to locate an experienced professional installer. Professional installers have the experience needed to help ensure your floor is installed properly.
DIY Installation
Trim and Moldings
Trim and Moldings Overview
Matching trim is available for a wide variety of resilient floor styles and will provide a finishing touch to your flooring installation.
Trim and Moldings for - Durango - Deep Gold
Multi-Purpose Trim
D4156TRM
Transitions to varying levels. Can be used as T-molding or surface reducer.
Stairnose Trim
D4156STR
Finishes the edges of stairs, step downs, or landings.
Customer Reviews
Rated

4.2

out of

5

 by

33

reviewers.
Rated

4

out of

5
 by
Petowner
Good installation method for my situation
This was a great solution for covering my existing floor. I like the way it looks overall. Some seams look better (more realistic like grout) than others. Have had trouble with it sticking in a few spots but once I left some weights on it for a few days seems ok now. Seems to be easy to care for so far. Is great at not showing every pet hair.
December 25, 2015
Rated

5

out of

5
 by
Sittodo11
Very pleased with this flooring!
Remodeled our kitchen and wanted easy to maintain, not show dirt, doesn't scuff, and fairly neutral colors. This met all requirements. Looks like ceramic flooring without the expense and maintainane. A wet mop cleans it well. Love it!
November 25, 2015
Rated

1

out of

5
 by
Woodbridge
Expensive mistake.
I've installed a lot of flooring over the years and this is by far the worst performing flooring I have installed. The tile itself is pretty easy to install and looks Ok when new. We were sold on the product for our kitchen when the salesman stated that the epoxy grout that you are required to use with this product doesn't need to be sealed and won't stain like regular grout. Now that we've had it installed for 3 months we are very unsatisfied with the floor. 1. The durability of the tile is extremely poor. It scratches and damages very easily and the scratches show. Maybe a darker tile wouldn't show scratches as bad. 2. The grout is a magnet for dirt and is very hard to clean. Tried the once and done cleaner and it didn't do much for the floor or the grout. It would probably perform better with a sealer to smooth out the texture and reduce the dirt caught in the grout. 3. The tile is very hard to clean. It takes a lot of elbow grease and hard scrubbing to make the tiles come clean. The texture on the tile surface seems to be the problem. Once and done cleaner didn't do much good on the tile either. 4. It is a comfortable floor to walk on barefoot and would probably do OK in a low traffic room such as a bathroom where the traffic on the floor tends to be bare feet or socks. Bottom line is I'll be ripping the floor out after only a couple of months use because the grout looks horrible the tile is already scratched up and all of it is very hard to clean. It doesn't work with a busy family.
November 19, 2015
Rated

5

out of

5
 by
KevinD
Looks like a new house
Professionally installed this tile over our existing ceramic tile floor. They used leveling compound that filled all cracks missing grout. New floor looks beautiful and no more crackling sound when walking on floor due to cracked tiles! This floor makes it look like a new house. We also installed new cherry color cabinets and the floor brings everything together. Darker then our original floor so took a bit to get use to it now it really looks warm and cozy.Tile is durable and feels warm to the feet. Had a few scuff marks when moving refrigerator over to put in place but the Once and Done took it right out. I would recommend Armstrong Luxury Tile to anyone. Great product
November 13, 2015
Rated

5

out of

5
 by
suss
Alterna
After years of hunting for ceramic flooring, we found Alterna. We grouted it and it looks like ceramic but is warmer and softer. We love it.
September 22, 2015
Rated

5

out of

5
 by
Nick
Looks fantastic
Ripping out old outdated ceramic tile and replacing it with this product transformed the look of the house. The entrance hallway, half bath,and dinning area look fantastic and really make a great first impression to guests entering the house. The house looks more modern and the floor is much more comfortable underfoot than the ceramic tile. I suggest anyone looking at flooring to consider this line of tile
September 12, 2015
Rated

5

out of

5
 by
Susie34
Alterna D4159 Clay
I had three or four samples at home from which to choose. When I returned them to my dealer, I spotted Alterna D4159 Clay on display. I had not noticed it before, and when I did see it, I knew that this was THE one! I love it, even got up in the night to turn the kitchen lights on to admire it. The installer had no problems with it, and the grouting gives it an expensive look. I'm glad now that my dishwasher leaked, making it necessary to have a new floor covering. Otherwise, I would never have had this beautiful new floor.
August 23, 2015
Rated

5

out of

5
 by
Bilmar76
This product exceeded my expectation
The color and the finish is exceptional. As a bathroom floor, it is warm and comfortable with very good traction. Tiles cut easily and restoring edge bevel of the cut edge was easy and excellent with medium grade Emory paper. The adhesive sets the tile very firmly. Grout set beautifully and cleaned effortlessly. This project was fun and fabulously satisfactory.
August 17, 2015
Rated

4.2

out of

5

 by

33

reviewers.
Rated

1

out of

5
 by
Dianne39
A very costly mistake!
We had this floor installed two years ago. It is impossible to clean the textured surface. The grout that Armstrong requires to be used with this product is unsealed and is nothing but a dirt magnet. I have tried every cleaning product on the market and still, it always looks dirty. Furthermore, the vinyl surface is very thin and gouges easily. We had our kitchen remodelled and when a friend saw it and said, "Now you just need a new floor", I knew what a mistake we had made in buying Alterna tile. We are now in the process of removing it which is a nightmare. It is a very labor intensive job and difficult to lift. We have Mannington's Adura tile in our laundry room and two bathrooms and it is a much more durable product.
August 11, 2015
Rated

5

out of

5
 by
VGRoberts
Best floor for the worst environment
We installed the Alterna Durango in a second room last month. The first room 3 years ago. It has stood up to 5 children, 2 dogs, and 2 cats without any signs of wear and tear. I recommend it over laminate, carpet, and stone tile!
July 21, 2015
Rated

5

out of

5
 by
Dolly48
Perfection in a floor
We put this floor in our kitchen and it is simply beautiful. So easy to maintain and love how it makes our kitchen look so much cleaner. When we moved in with my mom I knew we had to change the floor and I wanted something that would look great no matter what is dropped on it and I am wowed by this floor and my mom loves the look too. This luxury vinyl tile is warmer and softer on your feet than ceramic tile and I have been telling everyone about this floor. I loved this floor so much I put Alterna LaPlata Caramel in the bathroom with the above same results. I love to talk about our remodeling and now bragging about this beautiful floor. THANKS ARMSTRONG for creating this product.
July 14, 2015
Rated

5

out of

5
 by
Evie
This product is outstanding
We are so happy that we went with this floor. We had this installed throughout our kitchen, back hallway and connecting half bathroom. It was laid in a pinwheel pattern using both the 8" and 16" tiles and using grout between the tiles. I wasn't sure when we first decided if this was the right decision, but after it was installed I can't get over the beauty of this floor. It looks and feel like a stone floor! Our guests cannot believe that this is a vinyl product. It is such a breeze to keep clean and really brightens our kitchen. I cannot say enough about this beautiful flooring!
June 9, 2015
Rated

5

out of

5
 by
MisterK
REST AT EASE: I was Skeptical, now a believer
I invested 10,000 dollars to do the entire house in LVT. (Durango Deep gold). I was VERY concerned about it, as we had no experience with these floors. You might say I was obsessive about the entire process. I was nervous about it, because of the investment, and going "All in" on this. LOOKS: The tile is beautiful, and yes, it look so much like stone, everybody is shocked, and has to touch it to believe it. I can't say enough about the appearance. Whatever tile you pick, is going to be great. Construction: The tile is very thick, maybe over a quarter inch or so. Prior to grouting, I can see the thickness. The tile is very rigid, yet has a little give, very little - so I could see that it was going to be very durable. We walked on it , very soon after initial installation, before it was grouted. Installation Professional Installation took about a week all told, but my house needed under-layment of plywood (luan board) which made all the difference in the world, for a solid base, and a uniform "level". Yes, this added about 3500 to the cost, but it was well worth it. The tile is not so bad, but all the other work, including removing doors, and edges around door frames would make this a back breaker for the entire house. Wear Cleaning, and Durability The tile looks fantastic in the entire house, and is more durable than I had read about on the 5 million web pages I read. (Did I mention I was skeptical??) What I was looking for is someone to ease my mind in the reviews. The problem with reviews is that negative examples tend to dominate, and gives you no real advantage. I was more concerned AFTER reading hundreds of reviews (not less). I can tell you that you cant go wrong here, whatever tile you pick is going to look fabulous. As for installation, I might do a single room or 2, but if you are getting a whole house done, best leave that to professionals. 1 CAUTION Don't install this over standard sub-flooring "Flaked Plywood", you need underlayment, or a very smooth plywood surface. You might get away with it, but its a risk. Its also expressly prohibited in the instructions. You will certainly have better results with a good under-layment. Cleaning Clean with Apple cider vinegar and water only, with a sponge mop. Simply mix one cup of cider vinegar with a gallon of hot water and use a damp mop to clean, rinsing the mop frequently with hot water. Substitute white vinegar for cider vinegar if you want to disinfect as you clean. SUMMARY Go ahead and buy the tile, I think its the best thing I ever did , and I am not worried about it anymore. Worse case scenario, if anything happens to a particular tile, you can easily replace it, (You should always buy some extra). Pop the old one out, and stick the new one in place. (You cant do that with hard wood floors!
April 13, 2015
Rated

1

out of

5
 by
Sue1959
Unsatisfactory Durability
I just had this Armstrong Durango-Buff tile installed in November 2014. This floor was far from inexpensive. For the price I expected the quality as well! It looks absolutely beautiful!! But I am soooo disappointed abouth the durability!! I dropped a plate on the floor, it dented the tile and the top layer of laminate peeled right off leaving a one inch long chip into the next layer.....this is the second hole so far since installation. There is a quarter inch long hole in the tile next to it as well that I found when I was cleaning about a month ago. I am not sure how that one got there but I do know there should not be any chips at all!!. I have a residential application and have had new kitchen floors before....the inexpensive self stick floor tiles from Home Depot are more durable then these Armstrong Durango tiles......if I had to worry about occasionally dropping things on the floor I certainly made the wrong choice! The Armstrong kitchen tiles my dad installed 30 years ago in the home I grew up in still look pretty darn good with no chips or dings! Armstrong, what happened?
March 14, 2015
Rated

5

out of

5
 by
Karen
Just what I searched for.
I searched for weeks getting samples from different locations and going online and finally found Durango Clay was the best match for my countertops. We had it installed on an angle with grout and are so pleased with the results. Beautiful!
October 19, 2014
Rated

5

out of

5
 by
Rosa
It looks gorgeous in my bathroom, make it looks bigger and brighter.
I didn't install it myself, I called some company that has a big commercial (Empire). That is my mistake. should go to Home Depot instead, it will be more than $300.00 cheaper. In other word, I got fooled.
June 5, 2014
Rated

5

out of

5
 by
Aquarius Woman
Great Product
Just had this floor installed in my kitchen and hallway. Looks great with my white cabinets, expresso color molding and also my granite countertop. Everything just comes together. The floor is easy to walk on and easy to clean. I am definitely going to install this floor in my bathroom.
March 28, 2014
Rated

1

out of

5
 by
Disappointed
Not worth the money
1) Difficult to clean. Dirt embeds into rough surface. Spray and mop doesn't work...need to mop hard and even get on hands and knees to clean 2) Scratches/Marks easily...dropping a spoon cause an indentation. Scratches from I don't what. Thank goodness our children are older and we have no pets. Installed one year and already need to replace 10 tiles!
August 20, 2013
Rated

5

out of

5
 by
Randy
Beautiful and "warm"!
I'm going to keep this short, as I have just had it installed and I cannot comment on durability or how it looks after a year, but it's been in a week and WOW! This product is absolutely beautiful and gets comments constantly, with nobody believing that it's an Armstrong Luxury Vinyl. Not only is it aesthetically striking, but it is softer than ceramic and it is warmer. When I read the comments about the product online at various forums everyone noted that it is "softer) and warmer, but frankly I didn't believe it and was going to be happy with it for it's beauty and reported durability, but sure enough this floor gets comments about what a nice "feel" it has, softer than tile or stone, and my wife who walks barefoot in the house sometimes noted that it was indeed "warm" as compared to stone or ceramic tiles. Loving it!
May 7, 2013
Rated

3

out of

5
 by
plantlover
porous surface
I love the look of my new floor, installed very nicely by the dealer. My only concern that I didn't notice when purchasing was it is very poruous, not smooth. very hard to keep clean. I actually have to get on the floor and clean it with a rag and soft brush to get in the pores. Is this normal for this floor? It's a shame because it is a beautiful floor. I am 63 and cannot imagine cleaning like this for another 20 years.
May 3, 2013
Rated

4

out of

5
 by
PiaOnomato
Beautiful and Durable
After choosing a floating vinyl floor that looked horrible installed, I had to choose another floor STAT! The Alterna was my dream floor so we expanded the budget and bought it. It is a beautiful, light floor that will stand up to kids and dogs. We chose the recommended gypsum grout which is very light. We had the floor professionally installed and we love it!
April 29, 2013
Rated

5

out of

5
 by
Wendy000
Looks beautiful!
We chose Alterna, Durango, Bleached Sand. It took 2 days to install. The installer had to take up the old carpet, remove the baseboards and toilet, as well as remove the closet and bedroom doors. Then he had to put a layer of wood (looked like plywood) down, I think to make it level with the bedroom carpet. He had to put something in the cracks of the wood and it smelled so bad, I did not sleep in the bedroom that night. He finished the next day. I have to say, it looks beautiful!. Really brightened up our master bath. It has a nice look and texture to it. It's easy to clean with just plain water. It isn't cold to bare feet. The grout apparently doesn't chip or stain. We are so happy with it! I would recommend it to everyone!
March 24, 2013
Rated

4

out of

5
 by
w120jmk
A great product for the "Do it your Self-fer"
My husband and I purchased this product and color because we wanted something that would be durable and wear well in our home. We also wanted the look of a ceramic tile without the hassle of installing ceramic tile. This product ,met all of our expectations.
March 14, 2013
Rated

4

out of

5
 by
Diane 64
tile great-installation varies
I installed this tile in two rooms. In my daughter's room I put down the 1/4" recommended plywood first. The tile went on easily and adhered in the indicated length of time. In my bathroom I followed the instruction for stripping the surfacing on my existing flat tile. It took forever to dry, and the tile did not adhere as well for about two weeks! The grouting did not go on as well either. When I do the other bathroom and service porch I will definitely rip out the existing tile and lay down the plywood underlayment first. I love the appearance of the tile and it cleans easily. We have dogs and I have not had issues with scratches or dings. I put it in this summer (2012) so I can't really comment on reliability yet.
October 18, 2012
Rated

5

out of

5
 by
CL53
This product will please everyone!
We have the rich look! We have the luxurious feel! We have the durability! We have the easy care! We have Armstrong Alterna Durango vinyl flooring! No one believes that it is vinyl until they actually walk across our new kitchen floor. Our floor that is quiet, and soft on the feet and so easy to keep clean. We love it and are so excited that Consumer Reports agrees with us!
August 22, 2012
Rated

5

out of

5
 by
rcm322
Very happy with our Alterna floor!
We had Alterna flooring installed just over a year ago, in Durango Cream with Driftwood Grout. It's in our kitchen, entry hall from garage, and powder room - so very high traffic areas. We've been very pleased with how it looks, how durable it is, and how easy it is to keep clean. It looks so much nicer than our old sheet vinyl floor - people think it's ceramic tile, but then they realize how soft and comfortable it is underfoot, and not cold like tile. We definitely recommend this product!
July 8, 2012
Rated

5

out of

5
 by
KenL
Installed 3 months ago, very happy so far
I had this floor installed when a previous, old (38 years) and worn asbestos vinyl tile floor was destroyed by a flood. Insurance paid for an average quality replacement floor, but I wanted a high quality floor and was willing to pay extra for it. I researched all types of floors and settled on this floor. It was professionally installed, which I recommend since the floor prep involved grinding the underlying concrete slab to make it absolutely smooth. I chose to not use "grout". The floor looks very good. Almost all visitors ask about it since it looks like ceramic tile. Following installation I had furniture moved back on it and was somewhat afraid of possibly scratching the vinyl, but this has not occurred even with sliding furniture on it. It cleans very easily. I cannot comment on its long-term durability since I have had it only three months but I am expecting a long life for it.
June 20, 2012
Rated

5

out of

5
 by
Donna1
New installation, so far so good.
Nice quality product, natural look of stone. Went with groutless installation, seemed like less maintenance issues.
June 1, 2012
Rated

5

out of

5
 by
Hopmom7
Beautiful flooring
This floor is beautiful in my bathroom and laundry room and easy to clean and great for the area.
May 16, 2012
Rated

5

out of

5
 by
Peg1
Very sophisticated appearance.
I am so pleased with the Amstrong Alterna Durango Clay floor. With the grouted lines and the textures in the tile it has the sophisticated appearance of a stone floor.
December 3, 2011
Rated

5

out of

5
 by
success story
You'll be so happy with the results
I installed this product in my kitchen, hallway, and half bath about a year ago. It still looks great. An individual tile, held in your hand, looks pretty "blah", but on the floor it looks terrific---like limestone, and grouted, it looks even better. I have never attempted something like this before, and my husband was afraid it would be a disaster. But following Armstrong's installation instructions made it less intimidating. (The hardest part is deciding where the starting point should be.) There is no issue with tiles lifting. The floor is easy to clean (I vacuum regularly, and use Armstong's cleaner). If a 64 year old woman can do this, so can you, and you'll be so happy with the results!
October 16, 2011
Rated

5

out of

5
 by
jack of trades
Luxury vinyl is worthy!
After completing many floor installations of various types, this floor is superb. My previous knowledge and experience with installs helped complete the job fairly easily. The floor is maintaing the 'new' look to this day. The 'feel' of this floor is comfortable and the texture is soothing. Spilled water is not slippery. I did not believe the claim by Armstrong that this flooring is actually 'warm' during the winter. I believe that claim now! I prefer barefeet on this floor! In summary, a great product and worth every penny!
September 15, 2011
Rated

1

out of

5
 by
Steve
Hard to clean - Don't buy!!
The product looks good when new but the texture of the tile means that it holds the dirt and the only way to clean it is to get on your knees with a scrub brush and scrub away. Avoid any tile with the surface texture of this one
September 8, 2011
Questions & Answers
Coupon Offers
Armstrong Showrooms
These elite retailers display the broadest selection of Armstrong flooring from every product category, plus have: an expert team of Armstrong certified product professionals dedicated to helping you choose the right floor, an Armstrong 30 Day Customer Satisfaction Guarantee and extended Armstrong product warranties.
Premier Showrooms
Premier retailers offer an extensive selection of Armstrong flooring in most product categories. They have Armstrong certified product professionals dedicated to helping you choose the right floor. Installation services will vary from store to store.
Find a Store
Find a flooring store in the U.S. or Canada