16 in. x 16 in. Luxury Vinyl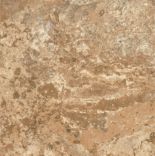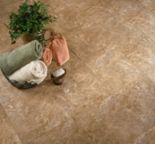 North Terrace - Terra/Clay
16 in. x 16 in. Luxury Vinyl
Price This Floor
Order Sample
Samples Out Of Stock
Design a Room
Coupon Offers
Find a Store
Details
Specifications
Price This Floor
Residential Warranty: Lifetime Limited
Light Commercial Warranty : 5 years
Limestone Enriched Luxury Tile
Urethane No-Wax
Look
Low Gloss
Measurement
Installation
Installation
Download Installation Guide
Professional Installation
No matter what
flooring
type you choose, we recommend you consult your retailer to locate an experienced professional installer. Professional installers have the experience needed to help ensure your floor is installed properly.
DIY Installation
Trim and Moldings
Trim and Moldings Overview
Matching trim is available for a wide variety of resilient floor styles and will provide a finishing touch to your flooring installation.
Trim and Moldings for - North Terrace - Terra/Clay
Multi-Purpose Trim
D4131TRM
Transitions to varying levels. Can be used as T-molding or surface reducer.
Stairnose Trim
D4131STR
Finishes the edges of stairs, step downs, or landings.
Customer Reviews
Rated

4.5

out of

5

 by

6

reviewers.
Rated

5

out of

5
 by
madeline62
Elegant look that hides dirt and stains.
I love the look and feel of this low maintenance floor for my kitchen. My floor gets lots of heavy traffic with two teenagers living in my house. I switched from a light colored floor which required daily sweeping and spot cleaning to this floor which is very forgiving of dirt and stains.The mottled surface and variation in pattern of the TerraClay allows the floor to always look clean. I've been told it resembles a Venetian Terrazzo stone mosaic floor. My new floor is comfortable to stand on for long periods while I'm prepping and cooking. This floor is beautiful.
January 8, 2016
Rated

4

out of

5
 by
BTMA
A good flooring for kitchens and family rooms that get a lot of use
I purchased this product to replace hardwood flooring in kitchen/family room and to compliment ceramic tile in joining rooms. Overall I am satisfied as it was somewhat easier to install than ceramic tile and much warmer and easier on the feet. It is easier to cut and lay but no matter how careful you are applying and cleaning up the recommended grout the grout removal process will leave a film that requires several washings with the Armstrong cleaner after the grout dries. The grout film is abrasive and this can scratch the floor if you try to move furniture even with soft pads. Grouting cleanup is easier with smooth ceramic tiles. The variety of patterns on each tile is disappointing. Even when the tiles are cut from different parts of the sheet the dominant parts of the pattern will appear in different places on many of the tiles in the box, so the overall pattern the tiles is cut from is not that large and you must be very careful not to get similar patter features close together.
February 6, 2015
Rated

5

out of

5
 by
LISue
Beautiful look
Our last kitchen floor was a wood laminate - it was down 10 years and still looked great. We were hesitant to go with something else, but a friend suggested this and we couldn't be happier. The tiles were installed with grout on the diagonal and they look fabulous. As it's only been three weeks, I can't speak to durability - but it's already had quite a bit of abuse with the cabinet installation and so far, so good.
June 11, 2014
Rated

5

out of

5
 by
dr.mike
This is a beautiful product, that is beyond what a single tile can show you.
Just finished having it installed. WOW, even the professional installer, remarked, "This remade this kitchen into a work of art". His skill and professional talent took this tile to new highs. My wife is ecstatic! We are sitting on it, like newlyweds, because this makes the kitchen the very center of the house. Even our two dogs, love the feel of the floor. It is warm, busting with invitations to share, brightened a drab kitchen into a Armstrong brochure. We can't be happier, or more impressed with our supply company and the talented, creative, skilled technician who took this tile and made it a piece of art work in our home. Five Stars...
April 20, 2013
Rated

5

out of

5
 by
rsu1
Looks great and easier to install than expected
The floor is quiet, reasonably durable and much warmer to the touch than ceramic or stone. Installation was easier than expected -- I really find grouting to be a drag with all of the sponging, but this was better than expected. You can scratch this floor with heavy or sharp objects, or repeated movement of things like chairs and stools in the same place -- invest in decent glides for your furniture to minimize wear. The pattern/color do a good job of hiding incidental dirt -- you don't have to be down on your hands and knees cleaning every time the dog walks across the floor.
February 18, 2013
Rated

3

out of

5
 by
kcarl
Good quality material. Sample and product delivered differed in color
Good, heavy duty product. Tiles are accurately sized and can be installed with 1/8" grout line with no worry of getting out of square. Downside is that we were disappointed that the delivered material had far more rose color than the store sample. Don't expect this to look like porcelain or ceramic due to 1 dimension, repeating pattern. Even though we were very careful to pull from several boxes at a time, we still had trouble with repeating patterns. In the past we have had very good results with Armstrong products. I will be far more careful about my color and pattern selection next time.
September 25, 2012
Questions & Answers
Coupon Offers
Armstrong Showrooms
These elite retailers display the broadest selection of Armstrong flooring from every product category, plus have: an expert team of Armstrong certified product professionals dedicated to helping you choose the right floor, an Armstrong 30 Day Customer Satisfaction Guarantee and extended Armstrong product warranties.
Premier Showrooms
Premier retailers offer an extensive selection of Armstrong flooring in most product categories. They have Armstrong certified product professionals dedicated to helping you choose the right floor. Installation services will vary from store to store.
Find a Store
Find a flooring store in the U.S. or Canada