16 in. x 16 in. Luxury Vinyl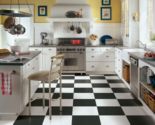 Solid Colors - White
16 in. x 16 in. Luxury Vinyl
Price This Floor
Order Sample
Samples Out Of Stock
Coupon Offers
Find a Store
Details
Specifications
Price This Floor
Residential Warranty: Lifetime Limited
Light Commercial Warranty : 5 years
Limestone Enriched Luxury Tile
Urethane No-Wax
Look
Low Gloss
Measurement
Installation
Installation
Download Installation Guide
Professional Installation
No matter what
flooring
type you choose, we recommend you consult your retailer to locate an experienced professional installer. Professional installers have the experience needed to help ensure your floor is installed properly.
DIY Installation
Trim and Moldings
Trim and Moldings Overview
Matching trim is available for a wide variety of resilient floor styles and will provide a finishing touch to your flooring installation.
Trim and Moldings for - Solid Colors - White
Multi-Purpose Trim
D4100TRM
Transitions to varying levels. Can be used as T-molding or surface reducer.
Stairnose Trim
D4100STR
Finishes the edges of stairs, step downs, or landings.
Customer Reviews
Rated

1.3

out of

5

 by

3

reviewers.
Rated

1

out of

5
 by
PrairieKid
Impossible to maintain original colour!
The installation was challenging. If any adhesive got on the exposed surface it is next to impossible to remove. ***My biggest complaint is that the tile is impossible to keep clean! After only a year, high traffic area has a permanent grungy yellowish stain that can't be removed with Armstrong Once n Done Floor Cleaner. I am at a loss as to how to restore and maintain the clean appearance of new tiles. I have followed the company's instructions to the letter! This tile was very expensive. I regret installing it. Luckily I only installed it in the upstairs bathroom, where guests don't go. I still have an extra box of tile I was going to install in the guest powder room. Glad I didn't, even though I couldn't get a refund on it. If I could afford to, I'd have it removed and install something else... anything else!
November 28, 2015
Rated

1

out of

5
 by
Wowa75
Do not buy solid colours.....stone effect will hide dirt and defects.
We went for classic black and white checker board effect. The matt finish makes the white impossible to keep clean. Armstrong stripper/scrubbing brush and hands and knees every second day will do it! Mop and gentle cleaner, forget it. Black surface finish has flaked/chipped on 2 tiles leaving white substrate visible. Has has light use in kitchen with no utensils dropped. We will be taking it up when time/funds allow.
November 9, 2015
Rated

2

out of

5
 by
1Xmasgirl
Disappointed in Alterna White
I was drawn to this product because I wanted an all white floor in my Master bathroom. Having read other reviews for Alterna, which gave a poor rating to grouting, I decided to have this installed without grout. This produce, 16 inch squares, does not have "square" or right angle edges. The edges are "beveled" to allow for grout. Because of the beveled edge, there is a significant line or space between each square, thus it looks like the tiles were not laid properly. Also each space is not the same. Some tiles have a wider space than others. It look horrible. Perhaps with a darker color, the spaces might not be as visible. Also the low gloss, and mat type finish and texture attract dirt and smudges more than a high gloss vinyl or linoleum. I anticipate that I will have to be on my hands and knees each time I clean because a mop alone will not clean the surface. On the plus side...I do like the warmth of the product under bare feet, and it certainly is white. Also dropped items will not shatter as readily as they would on ceramic tile. If I was starting over again, I would seriously consider ceramic tile, for the look and for the upkeep. I do not recommend this product.
October 24, 2015
Questions & Answers
Coupon Offers
Armstrong Showrooms
These elite retailers display the broadest selection of Armstrong flooring from every product category, plus have: an expert team of Armstrong certified product professionals dedicated to helping you choose the right floor, an Armstrong 30 Day Customer Satisfaction Guarantee and extended Armstrong product warranties.
Premier Showrooms
Premier retailers offer an extensive selection of Armstrong flooring in most product categories. They have Armstrong certified product professionals dedicated to helping you choose the right floor. Installation services will vary from store to store.
Find a Store
Find a flooring store in the U.S. or Canada