Additional Information
What Is Engineered Wood Flooring?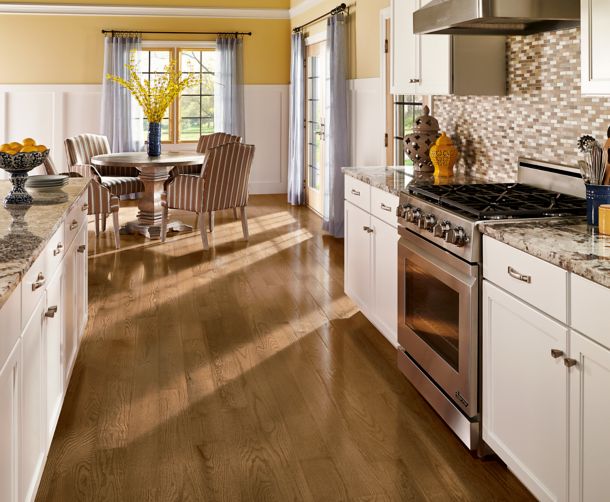 Engineered hardwood is a versatile alternative to solid wood. Unlike solid hardwood, which is one piece of wood milled from a tree, engineered wood flooring is actually made of several wood plies (layers) that are fused together under heat and pressure.
Engineered hardwood flooring adds warmth and value to your home. With a variety of finishes, species and widths – you're sure to find the perfect match for your home. If sustainability is a priority of yours, engineered floors tend to be a more eco-friendly option.
Customer Review
I installed the flooring two years ago and couldn't be happier! It's turned our home into a showcase. People keep commenting on how good it looks. Even with two big dogs pounding on it every day, the flooring looks as good as when we installed it. We were only going to cover about 2,000 sq ft, but we like it so much we're going to purchase another 1,000 sq ft.

Satisfied Customer – Reno, NV
Engineered Hardwood Construction
Engineered wood flooring is constructed from multiple plies of wood with a solid wood top layer. Below the top layer are cross layers of plywood that are pressed to create a strong, stable core. At the bottom is a hardwood backing. Engineered flooring is offered in a variety of thickness levels so it can be used in a wide-range of applications without awkward transitions between different flooring materials.
Engineered Hardwood For Basements
Engineered wood flooring allows you to enjoy the beauty of hardwood in your finished basement. The superior strength and stability of engineered hardwood floors makes them less likely to expand or contract, meaning they're less susceptible to changes in temperatures and humidity. Engineered wood can stand up to a variety of moisture and humidity-prone areas including bathrooms, laundry rooms, entryways and finished basements.
Engineered Vs. Solid Wood
Both engineered and solid wood floors bring the beautiful look of natural hardwood into your home, but it's important to know the key differences between engineered hardwood vs. solid hardwood in order to decide which one is right for you. All Armstrong engineered wood and solid wood floors carry the same lifetime structural warranty and residential finish warranty. Engineered wood floors can be more resistant to moisture and offer a bit more stability than solid hardwood. Unlike solid hardwood, engineered wood can go over concrete under the right conditions. Solid hardwood floors are more prone to shrinking or expanding based on humidity levels.
Style Considerations
Like all Armstrong hardwood floors, engineered hardwood flooring comes in a wide variety of domestic and exotic wood species, stains and surface treatments. Whether you're looking for traditional oak, walnut and hickory or the more contemporary tigerwood, mahogany or acacia – Armstrong has a design ideal for your home and lifestyle.
Plank Sizes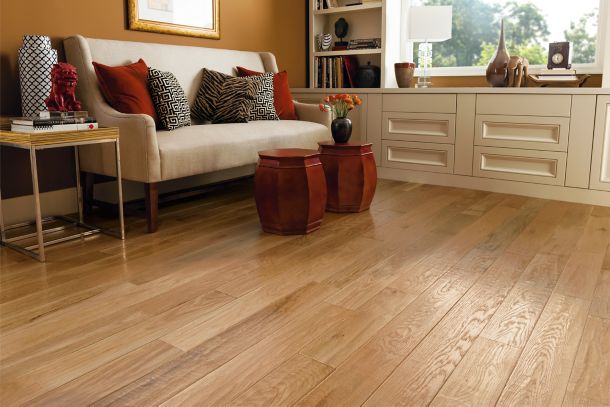 You'll also find different engineered wood plank sizes from narrow strips (less than 3") to wide planks (5" and up) that really show off the character of the natural wood grain. The size of the planks you choose makes a big difference in the overall look of your room. Narrow planks are typical for a room with a more formal, traditional style, while wide planks convey a more casual, relaxed atmosphere.
Design Tip: Wide planks are popular right now for contemporary rustic or urban room settings.
Textures
Surface texture of engineered hardwood flooring can add a lot to the atmosphere to a room by accentuating the elegance or adding to the warmth of a more casual setting. There are a variety of applications that can create a textured look and feel including hand scraped, distressed and wire brushed.
Textured flooring is trending in home interiors. The visual effect is a floor with character and a "lived-in" appearance that homeowners love. Armstrong Flooring offers more than 400 engineered hardwood products, so you're guaranteed to find a style that coordinates with your decor.
Be Your Own Designer with Design A Room
Like a virtual dressing room for flooring, our Design a Room visualizer allow you to "try on" different flooring designs before making a purchase. Simply pick a room type and design style or upload a photo of your room then mix and match different engineered hardwood floors with wall colors. Design Room Visualizer makes it easy to find the engineered wood flooring that's perfect for your home.
Find the Floor that Fits Your Lifestyle
Want to know which engineered flooring matches your lifestyle? Our floor finder tools helps you narrow the search based on your specific criteria. Just answer a few questions and the floor finder will select the style and design that's best suited to your lifestyle and budget.
Engineered Wood Installation
Another great feature about engineered wood floors is the range of installation options. Depending on the product you choose, engineered wood boards can be either nailed down or glued down as in a traditional hardwood floor installation. Engineered wood floors can also be installed as "floating" floors, in which the boards are attached to each other and not the subfloor – which makes it a DIY-friendly installation!
Care and Maintenance
Caring for engineered wood floors is the same as caring for a hardwood floor. When it comes to cleaning engineered hardwood floors simply follow a regular sweeping or mopping routine to removed dirt and debris and wipe up spills as soon as they happen. That's all it takes to enjoy years of a beautiful finish and lasting durability.