Featured Product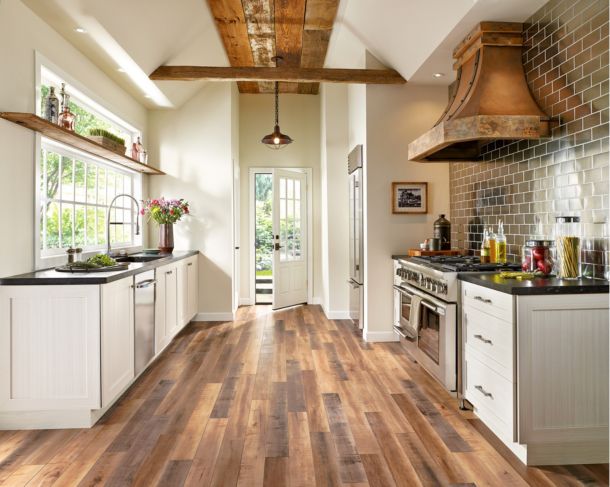 Armstrong Laminate Flooring
Laminate floors offer homeowners the look of natural wood, ceramic tile or slate that is both affordable and easy to maintain. Because laminate floors are moisture resistant they can be used in areas where traditional hardwoods can't such as a basement, laundry room or bathroom.
Armstrong Flooring's laminate products meet or exceed all environmental, health and safety requirements – including formaldehyde emissions – as mandated by the U.S. federal government and applicable state regulatory agencies such as the California Air Resources Board.
Additional Information
Laminate to the Rescue
When blogger mom Alison Prince wanted to give her son's bedroom a makeover she knew she needed a floor that could handle her rough and tumble household. After some product research, the co-founder of the popular website howdoesshe.com chose Armstrong Flooring's Architectural Remnants Laminate. Watch how Alison and her husband transform the room and find out how our floor performed against four children and two furry friends.
Laminate Floors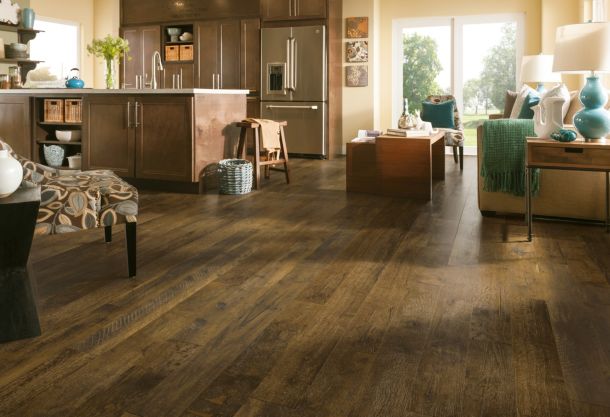 Laminate flooring can mimic a variety of natural materials including wood, stone and ceramic. Armstrong laminate floor styles capture hot, trend-setting looks inspired by art, nature, fashion, and culture. Laminate also gives you to freedom to showcase your home's true creativity.
Need more information before you start searching for a laminate floor? Read the Top 10 questions about laminate flooring that we get asked by many of our customers. The salespeople at your local flooring store can also help answer any questions.
Customer Review
I bought this floor to put throughout my entire first floor. It looks classic, elegant and makes the whole house look very open. Great quality, looks beautiful and can easily go with any style of decor.
mmellinger21, Noblesville, IN
View Franklin Maple Laminate Flooring
Why Homeowners Love Laminate
Laminate flooring allows homeowners to get the look of genuine hardwood or stone in areas they never thought possible. Laminate can withstand spills, sharp claws and heavy traffic. It also resists the toughest stains from makeup to Merlot.
Our laminate flooring offers these features and more:
Beautiful, realistic designs
Durability
Best residential warranties
Resistant to scratches, stains, scrapes, and spills
Easy DIY installation
Discover how to choose the best laminate flooring for your home to ensure you and your family are happy with the final results.
Design A Room With Laminate Flooring
Start envisioning how a new floor could look in your home with Design a Room. This online visualizer provides a series of prefurnished room images and lets you choose the design style, type of floor, and wall color. You can also upload your own photo to give you a true sense of how your finished room will look.
When your design is completed you can save it in our My Project organizer or start designing another room. Design a Room is a great tool to explore your creativity.
Find the Floor that Fits Your Lifestyle
Want to know which laminate flooring is best for your home? Our floor finder tools helps you narrow the search based on your specific criteria. Just answer a few questions and the floor finder will find the style and design that's best suited to your lifestyle and budget.
Get Laminate Flooring Estimates
If you want to get an estimate for a new laminate floor before you go to the flooring store, use our price estimator. This tool estimates the total cost of a flooring installation, including the cost of laminate plank flooring and labor costs for a professional installer to replace the subfloor and install the laminate floor.
To get a price estimate, find a laminate floor by selecting your laminate floor preferences on the left and then Price This Floor under the product swatch
Laminate Floor Installation
Many DIYers who enjoy home improvement projects want to know how to install laminate flooring. If you have basic handyman skills, you can install an Armstrong laminate floor. These floors feature our patented Lock&Fold® technology, the industry's fastest and easiest installation system.
With our interlocking flooring solution, Lock&Fold, you don't need any special tools. The laminate planks fit together and lock in place, creating a floating floor.
How To Install Laminate Flooring
Unsure of your DIY skills? Armstrong Certified Installers are exclusively trained to install our laminate flooring products. Your new floor will not only look great, it will stay that way for years to come. Protect your flooring investment with a professional installer.
How To Clean Laminate Floors
Laminate flooring is stain and fade-resistant and has a tendency to repel water. It has an extremely hard and durable surface, so with proper care your laminated flooring will look like new for years. These floors are easy to maintain. Just sweep or vacuum regularly and wipe up spills right away with a damp cloth or sponge. Once or twice a year mop with Armstrong Hardwood & Laminate Floor Cleaner.
Recommendation: Use only the cleaners that have been specifically designed for Armstrong laminate floors. They have been tested and proven to work. Look for more instructions on how to clean laminate floors in the Floor Care area.