Additional Information
Laminate Wood Floors
When you think "laminate wood", think authentic wood looks, durability, and versatility. See why laminate wood flooring is a popular choice for families, families with pets, and DIYers.
Customer Review
Old World Charm and Character
I had this flooring put in the foyer and kitchen of my newly constructed home. It gives the house a warm feeling and adds character. I'm looking for a distributor in my area, so that I can have it put in my staircase and upstairs hallway. It is very pet and kid friendly.
Diva2014
Las Vegas, NV
Laminate Wood Flooring Looks
Laminate wood floors offer realistic wood looks and textures. Gone are the days when laminate floors looked like poor imitations of the real thing. Today's imaging technologies allow us to create laminate wood floors that closely resemble real wood in color, graining, texture, and pattern.
Farmhouse Style
Farmhouse style re-imagines home interior looks from a century ago with new materials. Antique heirlooms easily mix with the straight lines of modern furniture. Homespun rugs cozy up to stainless steel appliances. Armstrong laminate wood floors that fit this style have the look of wide, rough-hewn planks with authentic knots and saw marks. Perfect for a renovated farmhouse or an urban loft.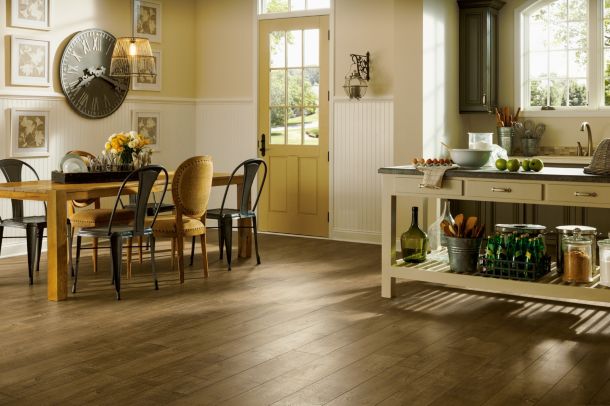 Weathered Charm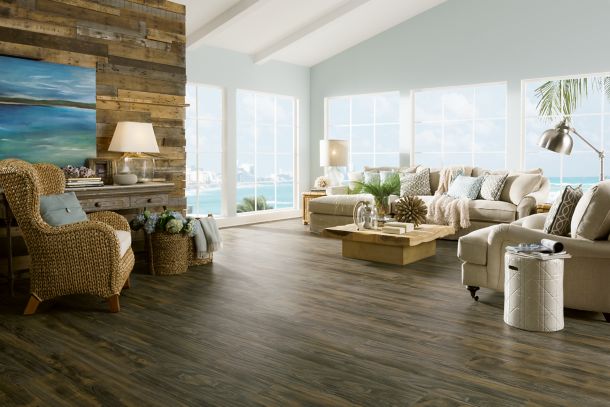 How do you create character in a room? With laminate wood flooring that looks weathered and aged from the sun, sea, and wind. For beach homes or country cottages, build your room design from the floor up – with laminate wood floors that have ocean-kissed colors, visual texture, and natural charm.
Reclaimed Hardwood
There's a thriving industry for reclaiming old building materials, from floor boards to ceiling panels. Savvy interior designers and homeowners are scooping up these finds in antique shops and salvage centers and discovering new uses for them in their homes. Armstrong offers a more affordable way for you to bring the look of reclaimed hardwood into your home with a line of laminate wood flooring called Architectural Remnants. No sanding, no staining, no mess. These laminate wood planks have tongue-and-groove edges that fit together and lock into place.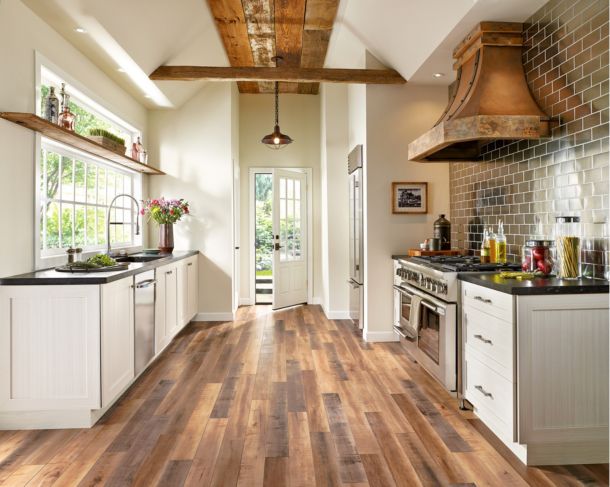 Wood Laminate Flooring Durability
The detailed construction of our laminate hardwood flooring delivers both outer protection and inner strength. On the flooring surface is the exclusive VisionGuard® wear layer which protects our laminate wood floors from heavy foot and paw traffic, remaining ageless and beautiful for years.
Inside, our laminate wood floors are built around Armstrong's reliable HydraCore™ core, which provides stability, durability, and moisture resistance.
Extraordinary designs. Extraordinary performance. Made possible by exclusive Armstrong technologies.
Laminate Wood Flooring Installation
Installing our laminate wood flooring is an easy project for DIYers. Armstrong's innovative Lock&Fold® technology allows you to install laminate wood floors over any existing floor. Hassle-free. Smooth alignment. No adhesives. DIY installation guides are available online or look for a flooring store near you that has Armstrong Certified Installers on staff.
Laminate Wood Flooring Care
To maintain your laminate wood floor's beautiful appearance, invest in Armstrong cleaning products that have been tested and proven to perform with our laminate wood floors. For easy-care cleaning tips, review Armstrong's tips on how to clean laminate floors.