Additional Information
Vinyl Sheet Floors
Vinyl sheet flooring remains one of the most popular flooring categories. And what's not to love? Sheet vinyl is available in a wide range of looks; it's durable and easy to clean.
Customer Review
I remodeled a small bathroom and I wanted a smaller width of sheet vinyl flooring. After reviewing on the website all patterns available in 6' widths, I choose this one, went to my local dealer to see in person. I loved it and once it was installed, it gave my small space the added wow factor I was looking for. Neutral but not plain.

Gastonia, NC, United States
Natural Beauty in Vinyl Flooring
We've brought the trend of "natural realism" to our vinyl sheet flooring. Our products capture the look and feel of objects found in the natural world with the stress-free maintenance of vinyl. Sheet vinyl floors have more depth and texture today than they did a generation ago. Armstrong vinyl flooring comes in various levels of gloss so you can choose from a range of looks.
We use cutting-edge print technology to produce beautiful floors that look like traditional and exotic wood species, limestone, sandstone, slate and other natural materials. Regardless of the authentic look are you searching for, you can find it in our vinyl sheet collection.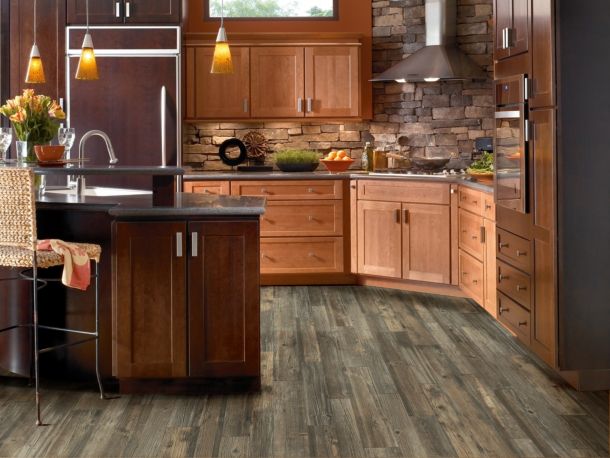 Vinyl Sheet Flooring Durability
Vinyl flooring is durable, low maintenance and easy on the budget. You won't have to worry about sharp pet nails or dropped toys on these floors! All of our vinyl sheet products come with the toughest wear layers available. That means under normal household use our vinyl sheet floors won't rip, tear or gouge. Guaranteed!
Sheet vinyl is soft underfoot, so it's comfortable to stand on for long periods. It's also warmer to the touch than hard surfaces like ceramic or stone tile. Vinyl flooring is traditionally reserved for hardworking rooms (kitchens, baths, entryways, laundry rooms and playrooms) but the high-end styles are making their way into other living spaces.
Vinyl Sheet Flooring Installation
Vinyl flooring can be installed over almost any existing floor. The key is the existing floor must be flat, smooth, and dry. Installation options vary based upon the sheet vinyl flooring you select. There are three basic installation methods for Armstrong vinyl sheet products:
1. Modified loose lay
2. Glue down with releasable adhesive
3. Glue down with permanent adhesive
Unless you are an experienced DIYer we recommend sheet vinyl flooring be professionally installed by an Armstrong Certified Installer.
Vinyl sheet flooring can often be installed seamlessly, making it ideal in rooms with moisture. It comes in a range of colors and designs, including styles that mimic tile and wood. Unless you are an experienced DIYer we recommend sheet vinyl flooring be professionally installed by an Armstrong Certified Installer.
Vinyl Flooring Care
In addition to refreshing, natural looks, Armstrong vinyl sheet flooring is easy to keep clean. Pets? Kids? Heavy Traffic? No problem! Sheet vinyl can stand up to pets nails and messes better than many surfaces. Best of all they're soft surface makes them comfortable for walking, crawling or curling up in a sunny spot.
Many of our vinyl floors have a wear layer that protects floors from stains, spills, scratches and scuffs. All you need to do is sweep regularly and mop as needed with Armstrong Once 'N Done floor cleaner. For glossy floors, occasionally strip and reapply polish as necessary. Avoid waxing or buffing the surface.
Be Your Own Designer with Design A Room
Like a virtual dressing room for flooring, our Design a Room visualizer allows you to "try on" different flooring designs before making a purchase. Simply pick a room type and design style or upload a photo of your room then mix and match different vinyl floors with wall colors. Design Room Visualizer makes it easy to find the vinyl sheet flooring that's perfect for your home.
Find the Floor that Fits Your Lifestyle
Want to know which vinyl sheet flooring matches your lifestyle? Our floor finder tools helps you narrow the search based on your specific criteria. Just answer a few questions and the floor finder will select the style and design that's best suited to your lifestyle and budget.