Additional Information
Vinyl Tile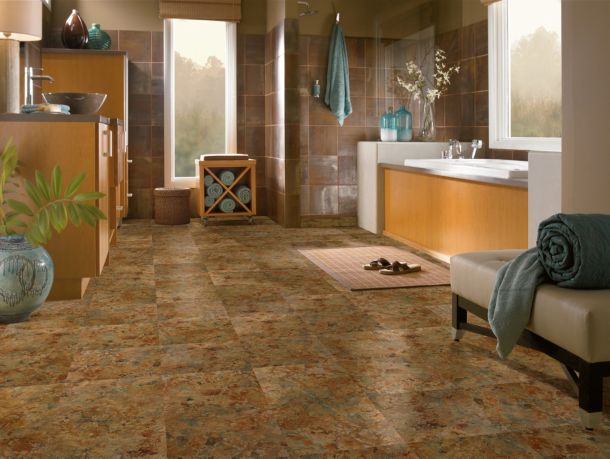 Armstrong Flooring's peel and stick tile offers the beauty and easy maintenance you expect in a vinyl floor…and it's DIY-friendly! Peel and stick tile is one of the easiest flooring options to install. All you need is a basic understanding of flooring installation methods and a little experience with a few common tools. Many of our peel and stick tile floors can be installed over a weekend.
We use state-of-the-art print technology to create highly realistic designs inspired by nature including traditional wood, parquet, stone and other natural elements. Choose our geometric patterns to give your home a retro vibe or decorative tiles for a unique look that's truly your own.
Customer Review
I don't usually leave reviews, but this is so great that I have to leave one! Better than any laminate I've ever owned. Looks natural, our friends and family can't tell that it isn't real until I tell them or they bend down and feel it! I can wet mop it, never going back to laminate again! (We have inside pets and kids)
Happy Customer, USA
Use Design A Room Tool
To find the right peel and stick floor for your room, try our Design a Room tool. This tool will help you visualize the floor that will work for your space and decorating style.
To use the tool, first choose a room and style. Next, select the wall and cabinet colors, then the look and color of your peel and stick tile floor. Designing a virtual room is the first step toward bringing your vision to life.
Find the Floor that Fits Your Lifestyle
Want to know which vinyl tile flooring is best for your home? Our floor finder tools helps you narrow the search based on your specific criteria. Just answer a few questions and the floor finder will find the style and design that's best suited to your lifestyle and budget.
Installation Made Easy
Our peel and stick floor tiles make it ideal for DIY installation. With a little prep and a few key tools you can install a beautiful tile floor quickly and easily. Armstrong's peel and stick adhesive tile is the most popular method of installation.
You can also opt to install your vinyl tile flooring by using glueless adhesive tabs or spray adhesive. With this method you can easily remove the tiles if you want to install another type of floor later.
How To Install Peel and Stick Tile
Vinyl tiles remain popular today and are commonly installed in baths, foyers, laundry rooms and mudrooms. To install vinyl tile flooring, simply remove the liner sheet and stick the tile where you want it on the floor. One precaution: these tiles are hard to remove once they're down, so plan carefully.
Armstrong vinyl floor tiles come in a wide-range of sizes, colors, patterns and textures. Use varying sizes and designs to give your floor a one of a kind look. From checkerboard and diamond patterns to contrasting boarders – the design possibilities are endless!
Lifestyle & Floor Cleaning and Care
Vinyl tile flooring is a cinch to clean—just sweep or vacuum and occasionally damp mop. Durable, resilient peel and stick tile flooring works well in heavily-traffic areas like kitchens and in rooms exposed to moisture such as mudrooms and bathrooms. You can literally install tile flooring in any room where you expect to have high traffic and want a floor that's easy to clean.
Remember to wipe up spills as soon as they occur. Sweep or vacuum regularly and wash your floor occasionally with Armstrong Once 'n Done Resilient & Ceramic Floor Cleaner. To avoid scratching or scuffing, do not use a "beater bar" attachment when vacuuming your vinyl tile flooring as well as highly-abrasive scrubbers or steel wool.