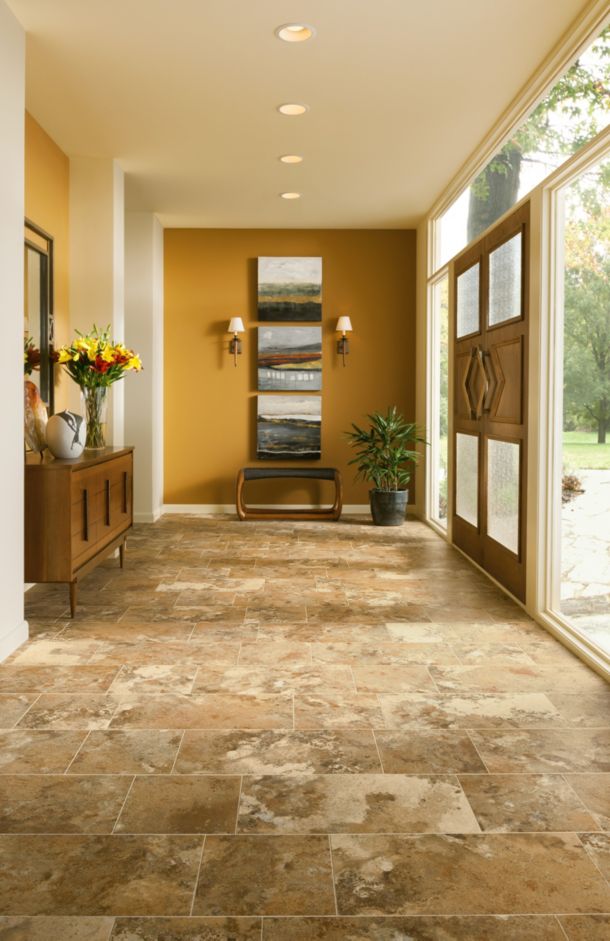 With luxury vinyl tile, you'll find the realistic looks of stone flooring you want, but in a more comfortable, more forgiving surface.
Stone Floor Looks
Stone tile flooring looks are reproduced in Alterna, our luxury vinyl tile flooring line. In Alterna, you can get the look of high-end stone, like slate, marble, or travertine. The textured surface of luxury vinyl tile is designed with virtually no pattern repeats to give you a more realistic, one-of-a-kind stone-floor look.
Armstrong offers luxury vinyl floors with the most popular stone visuals.
Slate – Monochromatic gray isn't the only color of slate. Just like in nature, slate comes in a blend of rich colors, including gold, amber, and gray-green, as you can see in this luxury vinyl floor.
Travertine – The surface finish is usually matte instead of polished, as if it's been gently worn by time. Earth-toned colors range from ivory and gold to blue, tan, and brown.
Marble – Classic Carrera marble is an elegant choice for kitchens and bathrooms, and works beautifully with metal accents.
Quartz – This stone-floor look reveals the remarkable crystalline structure of quartz in flecks and eddying pools of neutral tones.
Limestone – Neutral, warm, and calming, limestone comes in lighter shades, ranging from soft white to buttery cream to chamois tan.
Comfort Underfoot
As much as luxury vinyl floors portray the beauty and realism of natural stone, what sets them apart is the comfort factor. Unlike the cold, hard surface of stone, luxury vinyl floors are designed to be warmer and more comfortable underfoot.
Luxury vinyl also has a forgiving surface, which means it's more tolerant of drops and spills than stone, and its durable, protective wear layer resists wear and stains for years.
The beauty of natural stone never goes out of style. Now you can enjoy all the advantages of stone flooring – and none of the drawbacks – with luxury vinyl tile.