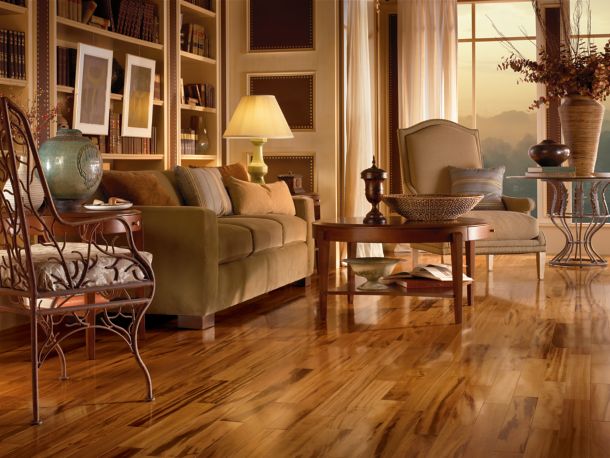 Tigerwood is a vibrant and expressive exotic hardwood that takes its name from the striated grain pattern resembling the stripes of the famous jungle-dwelling feline. Tigerwood's pronounced color scheme is a striking palette of chocolaty brown and creamy tan, flashed with yellow and burnt orange. This bold combination is harmoniously accentuated with stripes that dash along its tight, textured grain in broad strokes of brownish black. Because of its luxurious, sophisticated beauty, tigerwood hardwood flooring is a popular species with interior decorators and style-conscious homeowners with a taste for attention-grabbing designs.
Harvested from Brazil, Bolivia, Peru and other countries in South America, tigerwood hardwood flooring possesses a superior hardness rating of 1850 on the Janka hardness scale, making it one of the hardest hardwood flooring types available. Like all Armstrong exotic hardwood species, tigerwood hardwood is responsibly sourced from sustainably managed tropical forests.
Tigerwood in your home
Creating a rich, opulent look in your home is easily achieved with exotic tigerwood hardwood flooring. When designing with tigerwood, highlight the species' strong coloring by adding a few decorative accents that are equally bold in design. Pillows and drapes in a tapestry fabric or a graphic paisley print will help create a room full of spicy color. For lamps, furnishings and other accent pieces, add materials with strong character, like leather, wood and metal.
You should know that certain exotic woods gain richness in color once exposed to sunlight. Your tigerwood hardwood flooring will become darker with age and exposure, making the contrast between background and stripes less noticeable, but no less visually inspiring.
Caring for your tigerwood hardwood flooring requires nothing more than regular sweeping or vacuuming. For routine cleaning and maintenance instructions, follow the Armstrong hardwood floor cleaning and care guide.
Tigerwood hardwood flooring creates a beautiful, exotic backdrop to any room. Add your personal décor touches to make it truly your own.