Why Choose Laminate?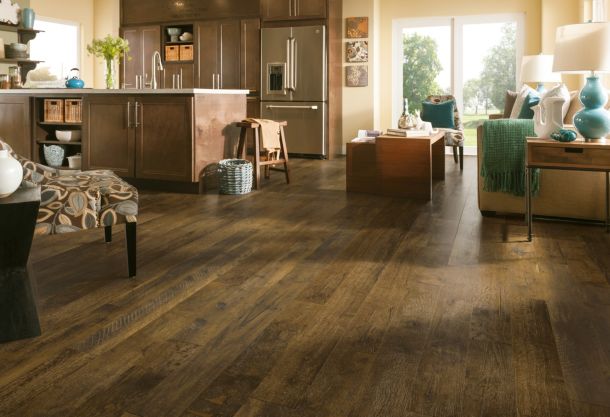 Laminate flooring is one of the most versatile and easy-to-maintain floor coverings on the market today. These floors look like authentic hardwood, stone, tile, and other materials in a wide range of styles and colors. Along with beautiful looks, laminate is highly durable, which is a great feature for active families and families with pets.
Before you shop for a laminate floor, take a look at the top questions that homeowners typically ask about this popular flooring option.
1. How is laminate flooring constructed?
Laminate has a 4-layered construction for long-lasting durability.
Wear layer – the top layer protects the floor from stains and fading and resists scuffs and scratches.
Design Layer – displays a photographic image of wood, stone, or other visual that is glued to the inner core.
Inner Core – HydraCore™/HydraCore Plus is a moisture resistant HDF (High Density Fiberboard) to provide stability, durability, moisture resistance, and sound absorption.
Backing – the bottom layer creates a moisture barrier that protects the floor from warping.
2. Where can laminate flooring be installed in the home?
Laminate flooring can be installed almost anywhere in your home, as long as you have a structurally sound, clean, dry, and flat subfloor. You can also install laminate over existing floors made of wood, concrete, ceramic tile, vinyl sheet, or even carpet (Carpet must be fully adhered and no more than 1/4" thick over suspended wood subfloors.).
3. Can I install laminate flooring myself?
Absolutely! Installing laminate floors is a weekend DIY project you can do by yourself or with the help of a few friends. Armstrong Flooring's exclusive Lock&Fold® installation technology makes it all snap together with interlocking pieces. No nails or glue are needed.
4. Are laminate floors pet-friendly floors?
Laminate flooring is a great option for households with pets. It's highly durable and designed to withstand scratches and scuffs, but as a precaution, it's a good idea to keep your dog or cat's nails trimmed and wipe up spills from their water bowl as soon as soon as they happen. The beauty of laminate is that if something happens to a plank or tile, it's easy to replace it.
5. If I damage my laminate floor, can it be repaired?
While laminate flooring is extremely durable, no floor is indestructible. You can easily repair nicks or scratches with a color-matched kit, such as Armstrong's Laminate Floor Touch-Up Kit. Look for it at your local flooring retailer. If the damaged area is large, you can replace the individual planks affected. For major repairs, however, it's best to consult with a flooring professional.
6. So many choices in laminate! How do I choose?
Start with the basics: your design style and your room. First, your design style. Contemporary? Urban? Rustic? Cottage? Eclectic? Find the colors and patterns that match your design style. Next, your room. How is it used - living room, playroom, bedroom, etc.? Now make a list of your design choices and functional needs. You might want to consider using an online design organizer that lets you capture your decorating ideas and create a project list and estimates.
7. What is a floating laminate floor?
In a floating installation, the laminate floor simply rests on the top of the subfloor without being fastened down by glue or nails. A specially designed interlocking system (one of the key advantages of laminate flooring) holds the pieces together while the entire floor "floats" over the subfloor.
8. What's the best way to clean my laminate floor?
To maintain your beautiful laminate floor, just sweep and use a microfiber mop, along with a cleaning product recommended for laminate, such as Armstrong Hardwood & Laminate Floor Cleaner. Guard against scratches by placing mats at outside entrances to collect excess moisture, sand, and grit. Use felt floor protectors under furniture and appliances.
9. Does Armstrong make trims and moldings to match my laminate floor?
Yes, Armstrong offers a line of coordinated trim and molding pieces, so you can complete your laminate floor installation. These include t-molding, threshold, and reducer strip transitions; and stair nose, quarter round, and base moldings.
10. How long can I expect my laminate floor to last?
First, know that your Armstrong laminate floor will be guaranteed against defects. Warranties on Armstrong laminate floors typically range from 20 to 30 years. How long your laminate floor will last depends on how you maintain it and the degree of wear placed on it.