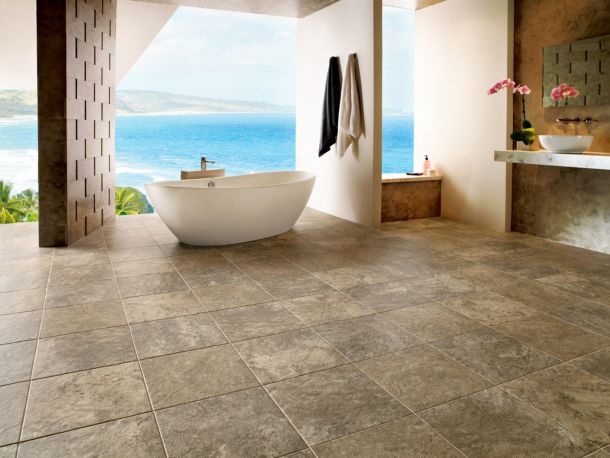 Travertine tile has a softly aged look that fits in well in today's homes. In fact, no matter what your decorating style, travertine will never fail to please.
If you're thinking about adding travertine tile flooring to your home, take a look at the options available in luxury vinyl tile. Just like natural stone, you'll find the beauty and luxurious allure, but at a fraction of the cost – and with many advantages that stone simply can't offer.
Exceptional qualities of luxury vinyl travertine tiles
The latest in 3-D digital print technology allows for design capabilities that authentically capture the look of hand-carved stone. You'll not only see but feel the worn texture, as if shaped by the passage of time. Likewise, the gentle color movements are the same as those found in natural travertine. The surprising realism of luxury vinyl travertine tiles even extends to the variations among individual tile pieces, so you can create a travertine floor that looks like no other.
Beauty aside, luxury vinyl tiles are made for contemporary lifestyles. Kids, pets, and all the activity that a busy household can stir up are easily a match for luxury vinyl travertine tiles. Their durable surface can handle dropped plates, juice spills, and heavy foot traffic without staining or scratching. And while the luxury vinyl surface looks identical to natural stone, it actually feels warm and comfortable underfoot.
Easy Care
Keeping your travertine tile floor looking great is easy. Just vacuum or sweep to pick up loose dirt, and damp mop as necessary. Unlike natural stone, there's no need for sealants or special cleaners.
With luxury vinyl travertine tiles, you get the luxurious look of natural stone in a floor that you can live with comfortably.