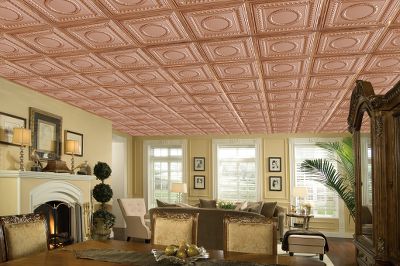 Antique Ceiling Tiles for Any Decorating Style
Ornamental patterns in pressed metal antique ceiling tiles bring a touch of old-world charm to any room.
Today, pressed metal antique ceiling tiles have come back to life with all the intricate ornamental details and authentic patterns of the late 19th century. Antique ceiling tiles can transform a room by adding texture, color and flair. No matter the decorating style – from modern to traditional – or how the room is used – from home theatres and man caves to family game rooms – antique ceiling tiles make everyone look up and take notice. Even better, today's pressed metal tile are more affordable and easier to install than the original versions.

Design ideas using antique ceiling tiles

A touch of warmth is welcoming – Antique ceiling tiles offer beautiful pressed metal patterns that help set the tone in classic geometrics, delicate florals, or formal designs like the circular wreath. In addition to warmth and charm, antique ceiling tiles add soft sparkle in chrome, brass, copper and lacquered steel finishes.
Take a finished room to a whole new level – If the ceiling of an already decorated room serves as nothing more than neutral space, add pattern and color to raise the level to "impressive". Paintable white pressed metal ceiling tiles in a bold, dramatic color will add glamour overhead, where it's least expected.
Complement wallpaper patterns – If your room is wallpapered, consider adding a new pattern to the ceiling with antique ceiling tiles. Choose a pattern in a complementary scale to your wallpaper and keep the color neutral or white so the effect won't feel overwhelming.
Metal makes it modern – Metallic finishes are the current neutrals. For a modern appeal, finish your ceiling with antique ceiling tiles in a geometric pattern. You can also customize the look with metallic paint applied in loose brushstrokes to create a vintage, architectural or industrial feel. The edginess and sophistication of metal blends well with contemporary furnishings.

You don't have to look to the past for ideas on how to decorate with antique ceiling tiles. Whether you want your décor to make a bold and contemporary statement or a formal, elegant one, antique ceiling tiles are the crowning touch to a perfectly designed room.