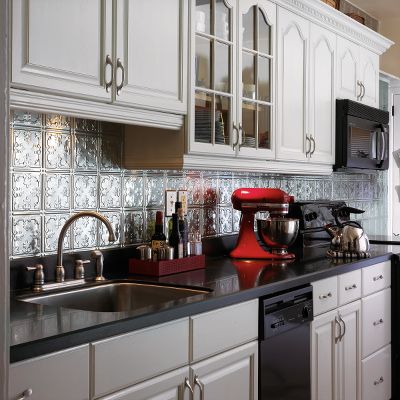 A Tin Backsplash Makes a Great Addition to the Kitchen
It's easy to give your kitchen a whole new look by adding the brilliant style of a tin backsplash.
You may not have the budget for a complete kitchen renovation, but you can give the heart of your home a whole new look with a tin backsplash.

Aside from serving as a shield to protect walls against splashes and splatter around countertops, a backsplash can also act as a design surface to highlight your kitchen décor.

The Brilliant Look of a Tin Backsplash

A tin backsplash brings instant style and sparkle to the often overlooked area below cabinets. Metallics are still "on trend" in interior décor, and a tin backsplash is sure to bring a refreshing change of pace from the traditional porcelain tile look. The pressed metal panels of a tin backsplash act as a neutral backdrop that can take on warmer qualities when paired with wood cabinetry or cool, sophisticated tones when combined with streamlined appliances and furnishings.
In addition, a tin backsplash introduces textural interest to the kitchen and fits any décor style – from modern to funky retro, and Victorian to country.
Armstrong's Metallaire™ tin backsplash comes in 5 beautiful designs in stainless steel panels measuring 18-1/2" x 48-1/2". You can easily install a tin backsplash in a few hours using an adhesive for metal and common household metal shears or tin snips. Complete video instructions are available here. If you really want to bring a touch of glamour to your kitchen, cover an entire wall with backsplash panels.
A tin backsplash is a beautiful and affordable solution when you're desperate for a kitchen makeover, but can't change everything at once.