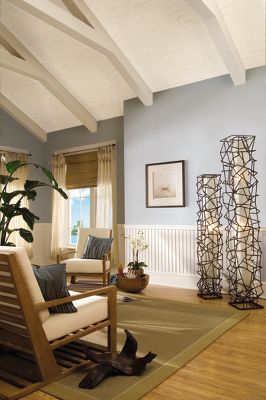 Wainscoting
The perfect marriage of function and style, wainscoting was originally used to protect the bottom half of plaster walls from scuffs and marks from jostled chairs, muddy boots, and even the occasional flung pewter ware. Eventually, wainscoting took on a more decorative role in a colonial or traditional-style home.

Today wainscoting still serves a decorative purpose and only occasionally saves the walls from dirty fingerprints and hastily moved chairs. Consider dressing up your bare, boring walls with the timeless look of wainscoting panels – and at a price that's easy on the budget.

Stunning Walls in No Time
The same Woodhaven® ceiling planks that look so beautiful on your ceiling can be used to add a layer of architectural beauty to your walls. Classic Beadboard and Painted White ceiling planks can be installed as wainscoting panels in any room in your home. Made of durable medium-density fiberboard (MDF), these planks look and cut like wood but they won't expand, contract, warp, or split.

Where to Install Wainscoting
Stylish wainscoting perfectly complements the country or rustic décor in kitchens and dining rooms, where it lends a comfortable, homey feel. In bathrooms, wainscoting panels are an affordable alternative to ceramic tiles, plus they add warmth to offset the "cold" look of porcelain or metal fixtures. In finished basement rooms, wainscoting panels add visual height to this low-ceiling space. But the best room for wainscoting is any room where you can stand back and admire it!

Easy Installation
WoodHaven wainscoting can be installed in hours, not days, if you follow our wainscoting installation instructions. You only need basic handyman skills to complete the installation, so it's perfect for weekend DIYers. Tongue-and-groove planks snap together easily and fasten to the wall surface with clips and screws included in the WoodHaven cartons. You can also use construction adhesive to apply the wainscoting panels.

Adding architectural interest to your home couldn't be easier or more affordable – with WoodHaven wainscoting from Armstrong.